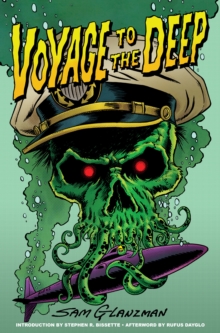 Voyage To The Deep
Hardback
Description
Four tales of the atomic submarine Proteus and hercrew in one graphic novel!
First, the submarine Proteus has just finished itsshakedown run and heads out to explore the Mariana Trench but when the shiparrives, it not only has to deal with giant sea creatures but an act ofterrorism that threatens the entire world!
Plus, a monster larger than theProteus, a fanged sea creature and an antimatter generator that threatens totear apart the world, and an unknown enemy unleashes sonic destruction on theProteus, and then the world!
Only the Proteus and her crew can stop them! "My wellandoften read copies (of VOYAGE TO THE DEEP) are still in pretty goodshape, but it's great to have 'em all here, between these two covers, in properbook formatshelved, at long last, right alongside 20,000 Leagues Under the Sea."from the introduction by Stephen R.
Bissette "In VOYAGE TO THE DEEP Sam(Glanzman) played on popular tropes for exploration, combined with Cold Warfear....
You care as much for the Submarine as you do for the crew.
They are inthis together. Sam's story is about how we all have to work together, that ishow we will pull through." from the afterword by RufusDayglo
Information
Format: Hardback
Pages: 144 pages
Publisher: Idea & Design Works
Publication Date: 05/02/2019
Category: Science fiction
ISBN: 9781684054503
Free Home Delivery
on all orders
Pick up orders
from local bookshops