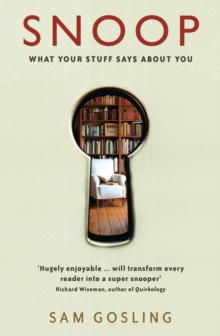 Snoop : What Your Stuff Says About You
Paperback
Description
Does what's in your bathroom or on your desk reveal what's on your mind?
What's the best way to find out what your partner is really like?
For ten years, ingenious academic Sam Gosling has been studying how people project (and protect) their inner selves.
Full of cutting-edge research, Snoop will sharpen your perception of others, as well as of yourself.
Amazingly, and perhaps alarmingly, Gosling proves that what we own and how we act can inadvertently reveal more about our personalities than even our most intimate conversations.
Information
Format: Paperback
Pages: 288 pages
Publisher: Profile Books Ltd
Publication Date: 14/05/2009
Category: Popular psychology
ISBN: 9781846680281
Free Home Delivery
on all orders
Pick up orders
from local bookshops
Reviews
Showing 1 - 2 of 2 reviews.
Review by elliepotten
23/09/2015
This is a brilliantly fascinating book about how personality is expressed through our environments and preferences. What do our bedrooms say about us, not just through the things we control but through the unconscious trails we leave? How about our office desks? What can you learn about someone from their books or music collection? It is very interesting, very well-researched, and throws everyday existence and our natural need to develop quick perceptions of others into a whole new light.
Review by nandadevi
27/08/2015
It's important to note that the subtitle of this book reads, 'What your stuff says about you.' Which isn't exactly what the book is about - it's really about how behaviour intersects with personality. To the extent that the acquisition of goods, and how you relate to them, is about 'stuff' then yes. But it's your behaviours and choices, driven by your personality, that bring the stuff to you (or you to it) and dictates how you 'keep' it (tidy or messy, showy or hidden). Gosling doesn't miss this point, the interior of his book is very largely made up of theories of personality and behaviour - so much so that many reviewers have complained it's not about 'stuff' at all Which goes to show that you shouldn't judge a book by its subtitle. Usually it's the case that the publisher has foisted it on the author, but in this case I think Gosling has to take the rap. Because in addition to being a serious professor who can't avoid tackling the real issues he's raising, he is a person who likes snooping, and I mean intrusively snooping where most of us would have drawn the line several yards back along. There's a serious aspect to this when you use it to validate psychological testing methods - for instance secretly filming subjects arriving to fill in a written psychological test and cross-correlating their 'body language' with the results from the test. But it is very dangerous ground, both ethically and logically.As I started reading I got the impression that this was an essay masquerading as a book, but at the end I realized it was more like a thirteen week series of lectures built around an entertaining, but ultimately not-really-central theme. As psychology, and even as a case study in ethics, it is a challenging book, by which I mean to suggest that it is thought provoking even if you (as I did) disagree with much of what he's done with these ideas. If Gosling had been a professor of forensic science this might have been a much more tightly focussed book, and perhaps he should look for a co-author from that field for his inevitable follow-up best seller.I'll forgive Gosling most of his assertions and glosses, however, for this one point that he does try to hammer home - most of what you think you understand about a person from what you observe about them is not true, and the fault lies with how you assemble your understanding of them. Essentially it's a caution about prejudices and an argument for making the effort to reach a deeper understanding. But not, and I repeat not, by going through their medicine cabinet while they're not looking. That, I'm afraid, says more about the person who is violating someone else's privacy, than it does about the person being snooped upon. And he does talk about the ethical way of going about 'getting to know someone', but he never seems to quite get the point that some things are - and ought to remain - private.