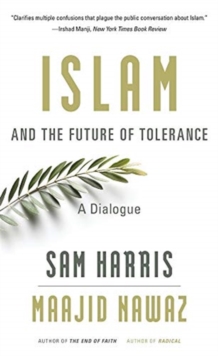 Islam and the Future of Tolerance : A Dialogue
Paperback / softback
Description
"A civil but honest dialogue...As illuminating as it is fascinating."-Ayaan Hirsi AliIs Islam a religion of peace or war?
Is it amenable to reform? Why do so many Muslims seem to be drawn to extremism? And what do words like jihadism and fundamentalism really mean?
In a world riven by misunderstanding and violence, Sam Harris-a famous atheist-and Maajid Nawaz-a former radical-demonstrate how two people with very different religious views can find common ground and invite you to join in an urgently needed conversation. "How refreshing to read an honest yet affectionate exchange between the Islamist-turned-liberal-Muslim Maajid Nawaz and the neuroscientist who advocates mindful atheism, Sam Harris...Their back-and-forth clarifies multiple confusions that plague the public conversation about Islam."-Irshad Manji, New York Times Book Review"It is sadly uncommon, in any era, to find dialogue based on facts and reason-but even more rarely are Muslim and non-Muslim intellectuals able to maintain critical distance on broad questions about Islam.
Which makes Islam and the Future of Tolerance something of a unicorn...Most conversations about religion are marked by the inability of either side to listen, but here, at last, is a proper debate."-New Statesman
Information
Format:Paperback / softback
Pages:144 pages
Publisher:Harvard University Press
Publication Date:27/09/2019
Category:
ISBN:9780674241480