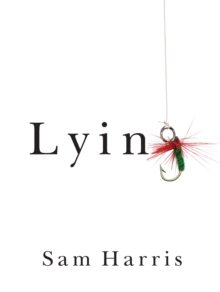 Description
As it was in Anna Karenina, Madame Bovary, and Othello, so it is in life.
Most forms of private vice and public evil are kindled and sustained by lies.
Acts of adultery and other personal betrayals, financial fraud, government corruption--even murder and genocide--generally require an additional moral defect: a willingness to lie. In Lying, best-selling author and neuroscientist Sam Harris argues that we can radically simplify our lives and improve society by merely telling the truth in situations where others often lie.
He focuses on "white" lies--those lies we tell for the purpose of sparing people discomfort--for these are the lies that most often tempt us. And they tend to be the only lies that good people tell while imagining that they are being good in the process.
Information
Format: Hardback
Pages: 108 pages
Publisher: Four Elephants Press
Publication Date: 05/11/2013
Category: Ethics & moral philosophy
ISBN: 9781940051000
Free Home Delivery
on all orders
Pick up orders
from local bookshops
Reviews
Showing 1 - 3 of 3 reviews.
Review by Jiraiya
16/06/2015
What the hell happened to Sam Harris? He is no longer an active writer. And while that is not a sin and his true work must be occupying his time, it was not necessary to burden us with an essay that is neither here nor there. Sam Harris's three other books are excellent. In the afterword to this book, he cites his wife as the first mover for this project and it shows. It's evident that the author was either being on auto pilot or was very cynical or unwilling to write anything that would be both virtuous and insightful. I would have rated this a 1 if it were not for the vocabulary and verbiage I've gained reading this thankfully short essay.
Review by fearless2012
16/06/2015
Normally I wouldn't read Sam Harris, but I needed a source for this paper I'm writing-- it needed to be something about communication in general or lying in particular, and my choices were rather limited, so I just took (or rather borrowed) it. It was somewhat useful for my paper, although it would have been more helpful to me if he had been a bit more descriptive as to why people *do* lie-- I especially need to know about the compulsive liar who lies out of habit-- but I guess that Harris is more philosophical than descriptive. Which doesn't mean that it was a bad book-- it was a short and interesting read. Overall it wasn't the best but it was a perfectly decent read; it was a pretty good polemic about why is lying is almost always wrong even in situations when it seems like it could be the right thing. And, given the author, I suppose that I should have expected a polemic, albeit a philosophical one. (8/10)
Review by mstrust
16/06/2015
Harris is a neuroscientist and author of several books on science and religion. With this book he begins by describing a course he took at Stanford while an undergraduate. The class was called 'The Ethical Analyst" and was taught by Ronald A. Howard, and would be life-changing for Harris as it examined one question: is it wrong to lie?Harris proposes that our society has become one where we expect to be lied to because so many people lie. The book is broken into three sections, the first is his essay about committing to total honesty and what can be gained or lost by this commitment. Then there is a conversation with Howard about why people lie and scenarios are posed, many involving life or death situations. The third section consists of questions posed by readers. All this in just 95 pages.