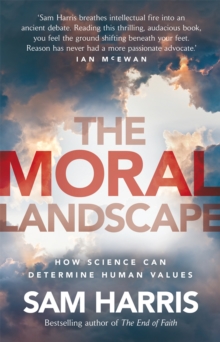 The Moral Landscape
Paperback
Description
Sam Harris's first book, The End of Faith, ignited a worldwide debate about the validity of religion.
In the aftermath, Harris discovered that most people - from religious fundamentalists to nonbelieving scientists - agree on one point: science has nothing to say on the subject of human values.
Indeed, our failure to address questions of meaning and morality through science has now become the primary justification for religious faith.
In this highly controversial book, Sam Harris seeks to link morality to the rest of human knowledge.
Defining morality in terms of human and animal well-being, Harris argues that science can do more than tell how we are; it can, in principle, tell us how we ought to be.
In his view, moral relativism is simply false - and comes at an increasing cost to humanity. And the intrusions of religion into the sphere of human values can be finally repelled: for just as there is no such thing as Christian physics or Muslim algebra, there can be no Christian or Muslim morality. Using his expertise in philosophy and neuroscience, along with his experience on the front lines of our 'culture wars', Harris delivers a game-changing book about the future of science and about the real basis of human cooperation.
Information
Format: Paperback
Pages: 384 pages
Publisher: Transworld Publishers Ltd
Publication Date: 01/04/2012
Category: Ethics & moral philosophy
ISBN: 9780552776387
Other Formats
EPUB from £4.99
eAudiobook MP3 from £7.20
Free Home Delivery
on all orders
Pick up orders
from local bookshops
Reviews
Showing 1 - 1 of 1 reviews.
Review by shanaqui
16/06/2015
I've had a good go at reading this without any knee-jerk reactions, but generally I find Harris' views instinctively abhorrent -- despite his championing of reason and science, I don't think he avoids knee-jerk reactions more than anyone else. Particularly when it comes to religion.The basis thesis that there are optimal states of well-being for humans, I accept. That science will be able to improve our understanding of that, I don't doubt. That Sam Harris could be the person that executes this moral calculus? That, I can't countenance. It's partly an instinctive dislike -- I haven't enjoyed any of his lectures and talks that I've watched either -- and partly his intolerance of anything he doesn't understand.I mean, he claims to be talking about universal states of well-being, and states that there may be multiple 'peaks' on the 'moral landscape' where the greatest possible well-being can be achieved. In almost the same breath, he dismisses any thought system he can't understand, particularly if it involves religion.Perhaps the fact that I'm a Unitarian Universalist makes this so difficult to swallow. I believe that there are many different paths to follow, whether you're looking for an afterlife, Enlightenment, reincarnation... There are different ways to be good, and it's hard to measure that. For example, we would accept a person who works with abused children in Britain, who kept their good as their first priority, as a good person. We would also accept a person who teaches children who are living in poverty in another country as good. Which is better? Which more worthy? I'm not sure I'm being very coherent about this. I'm sure there's someone waiting to jump on me telling me that Harris is completely coherent, entirely reasonable, etc; most likely some of them will have some sexist comments to make, without being aware of their own hypocrisy. For me, though, I didn't find Harris' argument that coherent. He seemed to argue himself round and round a tiny point without ever looking up to see the wider world and put his work in context -- every statement seemed to be a reiteration of his core thesis, rather than something which expanded it.