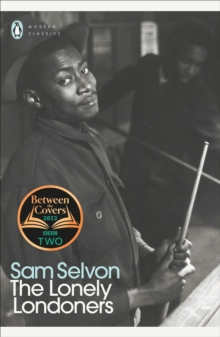 The Lonely Londoners
Paperback
Description
Both devastating and funny, The Lonely Londoners is an unforgettable account of immigrant experience - and one of the great twentieth-century London novels.
This Penguin Modern Classics edition includes an introduction by Susheila Nasta.At Waterloo Station, hopeful new arrivals from the West Indies step off the boat train, ready to start afresh in 1950s London.
There, homesick Moses Aloetta, who has already lived in the city for years, meets Henry 'Sir Galahad' Oliver and shows him the ropes.
In this strange, cold and foggy city where the natives can be less than friendly at the sight of a black face, has Galahad met his Waterloo?
But the irrepressible newcomer cannot be cast down. He and all the other lonely new Londoners - from shiftless Cap to Tolroy, whose family has descended on him from Jamaica - must try to create a new life for themselves.
As pessimistic 'old veteran' Moses watches their attempts, they gradually learn to survive and come to love the heady excitements of London.Sam Selvon (b. 1923) was born in San Fernando, Trinidad. In 1950 Selvon left Trinidad for the UK where after hard times of survival he established himself as a writer with A Brighter Sun (1952), An Island is a World (1955), The Lonely Londoners (1956), Ways of Sunlight (1957), Turn Again Tiger (1958), I Hear Thunder (1963), The Housing Lark (1965), The Plains of Caroni (1970), Moses Ascending (1975) and Moses Migrating (1983).If you enjoyed The Lonely Londoners, you might like Jean Rhys's Voyage in the Dark or Shiva Naipaul's Fireflies, also available in Penguin Modern Classics.'His Lonely Londoners has acquired a classics status since it appeared in 1956 as the definitive novel about London's West Indians'Financial Times'The unforgettable picaresque ... a vernacular comedy of pathos'Guardian
Information
Format: Paperback
Pages: 160 pages
Publisher: Penguin Books Ltd
Publication Date: 27/07/2006
ISBN: 9780141188416
Other Formats
Paperback from £10.00
EPUB from £3.99
Free Home Delivery
on all orders
Pick up orders
from local bookshops
Reviews
Showing 1 - 5 of 6 reviews.
Previous | Next
Review by curlygirl
16/06/2015
This is a wonderful book. One of the first published by a Caribbean immigrant about life in London, it features Moses, one of the first-wave Empire Windrush generation and his life in London. Lyrical writing and a plot that doesn't ignore the realities of life in a country that didn't really want them, but a lovely, light and joyful account nonetheless.
Review by riverwillow
16/06/2015
This is a fascinating book, first published in 1956, which gives an insight into the feelings of West Indian migrants to the UK, of which Selvon was one. I particularly like how the British chill, from both the weather and distrusts, penetrates the book.
Review by rutherford
16/06/2015
Picked this up on the recommendation of a friend after discussing 1950's calypso music, it's a modern classic I hadn't heard of telling the tale of a small group of (mainly) Trinidadian immigrants in London in the fifties.Sam Selvon eschews 'Standard' English and fuses the patois of the main characters into the language of the book – it is an interesting concept and challenges the reader to hear the characters much more clearly.As the stories develop, the book exposes the pathos of an immigrants life in London, the colour bar, austerity Britain and a lack of jobs are in conflict with the natural indomitable spirit of Moses, Sir Galahad and Cap – the standout scene being a dance attended by all the key characters and hosted by a 'lahdedah' friend who tries to impress the white guests he has bought. Priceless images of calypso dances and 'slackness' ensue.This is a marvellous book, that shows how cold and unforgiving London can be, and how the diversity of the city can also shine through.
Review by charbutton
16/06/2015
The Lonely Londoners tells the stories of men who arrived in London from the West Indies in the 1950s. They encounter overt and covert racism and end up in crappy jobs struggling to make ends meet, but they play hard often with the white women who seem to be particularly attracted to these exotic men.I really enjoyed this book. It's a love story, about the love between Trinidadian Moses Aloetta and the city he has lived in for ten years. It's not always a happy relationship - the city is cold, unfriendly. As Moses points out, 'Nobody in London does really accept you. They tolerate you, yes, but you can't go in their house and eat or sit down and talk'. It's still like this and I don't think it will change. In my street there are people from the West Indies, Asia, Eastern Europe, Africa, but do we mix? Not really, beyond a quick chat on the doorstep. It can be the loneliest place.But it can also be the most wonderful place too. Moses asks: "What is it that a city have, that any place in the world have, that you get so much to like it you wouldn't leave it for anywhere else?". There are moments when being in London is spiritually uplifting.There is much that doesn't change about London. One of the characters moans about the tube not running all night, something we still complain about! Immigrants still come to the city seeking out friends of friends who can help them start a new life, like Moses helps out numerous people from the islands. People settle here and add to the city's life, and others don't like that they come here at all. The media still plays on these fears as do the newspapers in Sam Selvon's story.
Review by edwinbcn
16/06/2015
Sam Selvon (Trinidad, 1929) is credited with the title of "the father of black writing" in the UK. Soon after his own arrival in London, he started chronicling the life and experiences of other Caribbean immigrants into Britain. His works are characterized by the use of the typical vernacular of the immigrants.Published in 1956, The lonely Londoners was the first of his London novels. It shows Moses Aloetta as the pin in a network of immigrants from Trinidad, Jamaica, etc arriving in the UK and finding work and accommodation, initially through Moses. This structure enables to author to present a kaleidoscopic image of the experience of various individuals coming ti London, and being met by Moses. Each immigrant is described with wit and excellent characterization.Unforgettable is the arrival of Tolroy's family at Waterloo Station. Expecting to meet a single family member, Tolroy is baffled by the arrival of his whole family, including an auntie, nicked Tanty.Moses' is not much better off, as he receives yet another acquaintance (people he has never met, referred to him) with the arrival of Henry Oliver Esquire, alias Sir Galahad, completely destitute without any luggage or even warm clothes, let alone money.The adventures are described warmly and entirely authentic. The quaint vernacular of the immigrants enhances this sense of authenticity, fun and creates the sense of a closely-knit community. The greatest difficulty for the immigrants is how to shed their home culture of happy-go-lucky laid-backness and substitute it instantly with a much needed urban savyness required to fit into the fast-pacing reality of metropolitan London.Having read Moses ascending (1975) a few years ago, I must say that The lonely Londoners offers a much more authentic, and in many ways more optimistic and pleasant read than the former.The lonely Londoners is a light and very enjoyable read. Highly recommended.
Also in the Penguin Modern Classics series | View all