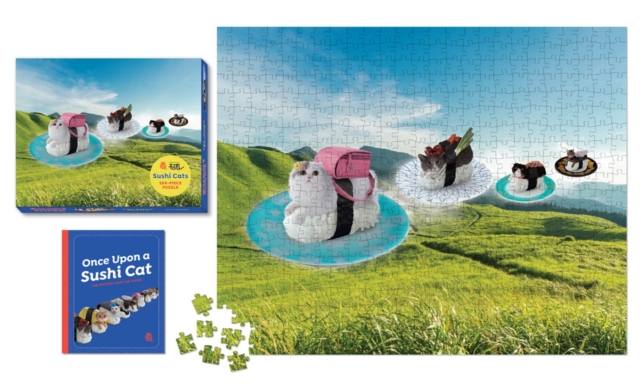 Sushi Cats 500-Piece Puzzle
Game
Description
Bring the mystery and magic of sushi cats -- adorable felines dressed up as sushi -- into your life with this deluxe gift set, including a 500-piece puzzle. If you are new to the wonderful world of sushi cats (or, Neko-Sushi), we're happy to formally introduce you to these magical creatures.
Sushi cats are an extremely unusual life-form consisting of a cat on top of a portion of sushi rice.
But make no mistake, these sushi cats are not for eating.
As the story goes, the history of sushi cats is nothing more than the history of mankind itself and they have been known to influence humans since the beginning of time. Discover your love for sushi cats with this deluxe 500-piece puzzle, perfect for cat lovers everywhere.
Set includes:* 500-piece puzzle: Printed on high-quality stock, this full-color puzzle includes 500 printed pieces that form a scene of all fourteen sushi cats.
Finished puzzle measures approximately 16" X 20". * Book: Flip through an informative, 32-page illustrated book (5 X 6") on the history of sushi cats, describing where sushi cats come from (Sushi Cat Island, of course) and how they've traveled around the world on their flying plates spreading joy. * Fully-illustrated wafer-sealed box.
Information
Format:Game
Pages:25 Full-colour photos
Publisher:Running Press,U.S.
Publication Date:28/10/2021
Category:
ISBN:9780762475483
Information
Format:Game
Pages:25 Full-colour photos
Publisher:Running Press,U.S.
Publication Date:28/10/2021
Category:
ISBN:9780762475483