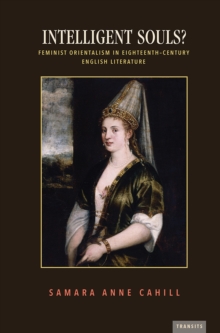 Intelligent Souls? : Feminist Orientalism in Eighteenth-Century English Literature
Hardback
Description
Intelligent Souls? offers a new understanding of Islam in eighteenth-century Britain.
Samara A. Cahill explores two overlapping strands of thinking about women and Islam, which produce the phenomenon of 'feminist orientalism.' One strand describes seventeenth-century ideas about the nature of the soul used to denigrate religio-political opponents.
A second strand tracks the transference of these ideas to Islam during the Glorious Revolution and the Trinitarian controversy of the 1690s.
The confluence of these discourses compounded if not wholly produced the stereotype that Islam denied women intelligent souls.
Surprisingly, women writers of the period accepted the stereotype, but used it for their own purposes.
Rowe, Carter, Lennox, More, and Wollstonecraft, Cahill argues, established common ground with men by leveraging the 'otherness' identified with Islam to dispute British culture's assumption that British women were lacking in intelligence, selfhood, or professional abilities.
When Wollstonecraft wrote A Vindication of the Rights of Woman she accepted that view as true-and 'feminist orientalism' was born, introducing a fallacy about Islam to the West that persists to this day.
Other Formats
Paperback / softback from £25.75
Also by Samara Anne Cahill