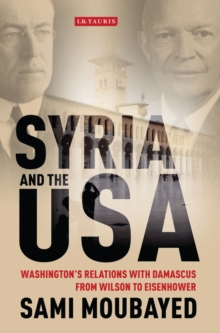 Syria and the USA : Washington's Relations with Damascus from Wilson to Eisenhower
Paperback
Description
The conclusion of World War I and the subsequent breakup of the Ottoman Empire led to the independence of a number of Arab nations and resulted in a Western scramble for roles of control and influence over them.
It was not until after World War I that Syria and the United States had a formal diplomatic relationship - prior to then the only Americans who had developed a relationship with the nation were missionaries, particularly those involved with the Syrian Protestant College, established in 1866.
The collapse of the Ottoman Empire, however, single-handedly brought Syria into the sphere of influence of the Western world, and as Sami Moubayed here illustrates, particularly that of the United States. The relationship between the two nations was by no means uncomplicated, and there were a number of challenges from the years following World War I to the early years of the Cold War. Though relations were warm between the United States and Syria while Emir Faisal was ensconced in Damascus, Washington saw little point in pursuing an American-Arab alliance, and Faisal's reputation suffered greatly as a result of his relationship with Wilson, particularly with respect to his stance on the creation of a Jewish state in Palestine.
Relations cooled between the two nations during the presidencies of both Warren Harding and Calvin Coolidge, neither of whom saw any value in being involved in Middle East affairs. However, with the discovery of large oil reserves in the Middle East, as well as Syria's siding with the Allies and declaring war on Nazi Germany, interest in the American-Syrian relationship was greatly revived.
As quickly as the relationship warmed though, it also cooled: in the aftermath of World War II, the United States was linked to involvement in a series of coups and counter-coups that destabilized Syria from 1949 until the Syrian-Egyptian union of 1958. Furthermore, Washington's initially benevolent attitude towards the right to self-determination gradually evolved into one of manipulation, espionage and covert activity during the Cold War when the US considered Syria as a Soviet proxy in the Middle East. The forty years between 1919 and 1959 saw the creation and unravelling of America's relationship with Syria.
In this book, Moubayed brilliantly explores the events of these years and, using original research and previously unpublished material, sheds light on an often overlooked subject.
Syria and the USA is an essential read for scholars of the Middle East, US diplomatic history and twentieth-century international relations.
Information
Format: Paperback
Pages: 240 pages, 8pp bw plates
Publisher: I.B.Tauris & Co. Ltd.
Publication Date: 30/09/2013
Category: International relations
ISBN: 9781780767680
Other Formats
EPUB from £8.99
PDF from £8.99
Hardback from £67.65
Free Home Delivery
on all orders
Pick up orders
from local bookshops
Also in the Library of International Relations series | View all