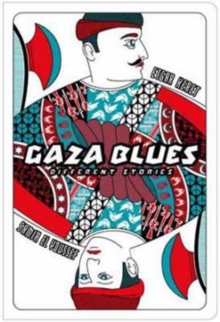 Gaza Blues : Different Stories
Paperback
Information
Format: Paperback
Pages: 140 pages
Publisher: David Paul
Publication Date: 23/04/2004
Category: Short stories
ISBN: 9780954054243
Free Home Delivery
on all orders
Pick up orders
from local bookshops
Reviews
Showing 1 - 3 of 3 reviews.
Review by wandering_star
16/06/2015
A combination of deadpan/throwaway sketches, by an Israeli author, and one long short story by a Palestinian author. Haven't read the palestinian short story yet, but I was disappointed by the Israeli sketches - there were some interesting ideas (eg a pathologist discovers that a woman who died in a suicide bombing had advanced cancer and would have died soon in any case - should he tell her husband?) - but these are never developed - the author seems to care more about maintaining a flip, throwaway tone in the face of all the violence. Which I am sure makes him very cool, but doesn't do a lot for the stories...Update: The story by Samir El-Youssef is different in style from the first part of the book - one longer story instead of the sketches. But it does make sense to put them together in one book - they share a similar tone - disjointed, affectless and cynical.
Review by -Eva-
16/06/2015
This book consists of 15 of Keret's short stories and one novella by El-Youssef. Of the Keret stories, only the "Shoshi" stories do not appear in Keret's previously published collections (in English), but the "Shoshi" ones are interesting in that they culminate in a bit of meta-fiction, which I have not seen from Keret before. El-Youssef's story, "The Day the Beast Got Thirsty," is slow-moving compared to Keret's flash fiction, but it manages to say something important about the mental state of a group of people who feel displaced, unwelcome, and impotent. It's not a cohesive collection as such, but the collaboration between the two writers is what's really interesting here and their effort should be not only applauded but repeated.
Review by SqueakyChu
16/06/2015
This is a bizarre, but brave little book. Etgar Keret begins it with his strange short fiction, some stories of which I have read elsewhere. My favorite story of Keret's was "Shoshi 3", a clever, unfinished story in the very middle of the book. A longish story by Samir El-Youssef ends the book. That was an odd read for me because it was almost as if I had to have an Israeli give me permission to read a story about angry Palestinians. I actually liked that story ("The Day The Beast Got Thirsty") the best, most likely because it was the most developed of all those short stories in this book. It told of a Palestinian living in Lebanon who wanted to get a visa to any other country, but who deep down knew he'd never get one. This book is an interesting experiment in Israeli-Palestinian cooperation. I'd like to see more of this. Learning about one another, in all of our humanity and with all of our dirt, is what will eventually bring us together.
Also by Samir El-Youssef