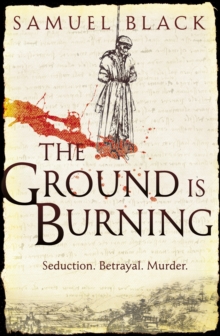 The Ground is Burning
Paperback
Description
Seduction, betrayal and murder: the true art of the renaissance.
Cesare Borgia, Niccolo Machiavelli and Leonardo da Vinci - three of the most famous, or notorious, names in European history.
In the autumn of 1502, their lives intersect in a castle in Italy's Romagna.
In this hugely intelligent and entertaining novel, Samuel Black tells the true story of these men who, with different tools - ruthless ambition, unstoppable genius and subtle political manipulation - each follow an obsession to attain greatness and leave a lasting mark on the world. And at the centre of this court of intrigue and deception is Dorotea Caracciolo, a young noblewoman abducted by Borgia who has become his lover - and his secret agent.
Their story begins in hope and fear and ends in bloodshed, deceit and triumph.
Along the way, there are battles and romances, lavish parties and furtive stranglings. And out of this maelstrom will emerge the "Mona Lisa" and "The Prince".
Information
Format: Paperback
Pages: 432 pages
Publisher: Faber & Faber
Publication Date: 03/02/2011
Category: Historical fiction
ISBN: 9780571269402
Other Formats
Paperback from £7.15
EPUB from £6.39
Free Home Delivery
on all orders
Pick up orders
from local bookshops
Reviews
Showing 1 - 2 of 2 reviews.
Review by adpaton
16/06/2015
Samuel Black takes us on a delightful and utterly enthralling journey into the realms of 'what if?' – but this is no far-fetched What if Dracula and Wolf man combined forces to Conquer the World kind of What If. No, it is an entirely plausible account of a fictional relationship between Machiavelli, Da Vinci and Cesare Borgia. Borgia was an amoral homicidal maniac, Machiavelli intelligent but insecure, and da Vinci a gentle vegetarian genius. All had a burning desire to achieve immortality but the only one who had confidence in achieving it was Cesare, which he did in the cruelest way possible, manipulating and betraying all who crossed his path. Highly recommended.
Review by JGolomb
16/06/2015
Samuel Black's "The Ground is Burning" is based in Renaissance Italy where a "Godfather"-like Don leads his own army, and where two of the greatest thinkers of 16th century Europe become close friends.This terrific concept bears fruit in a novel that builds upon the intersection of three key figures of the Renaissance: Niccolo Machiavelli, Leondardo Da Vinci, and Cesare Borgia.Though several themes run through Black's strong debut novel, the core motif orbits around death and permanence. Instead of word-smithing my own description, I'll let Black ponder this theme through the mouths of two of his primary characters. Cesare considers a future where "...I must...make myself immortal. I must reach the mountain peak - before death reaches me."Leonardo, who must've been a fun character to develop and write, thinks "I love to create illusions, but what if they are, as they pretend to be, life in microcosm - a glorious flaring, followed only by darkness, leaving not a trace of itself behind...I wish to carve my name in marble but...have I merely sketched a signature in dust?"Author Black has believably filled in the gaps where history provides only clues. In fact, Machiavelli, Borgia and Da Vinci did orbit each other quite closely during the late 1400s and early 1500s. While there are documented interactions between Machiavelli and Borgia, it's unclear the extent to which these three members of the Renaissance glitterati connected. Borgia's rather extreme views on leadership, and the use of his military might, was a model for Machiavelli's "The Prince". Black sticks closely to the historical record where it existed, creates plausible motives and scenarios with well-rounded characters that have emotional depth. It flows smoothly, is well written, and builds realistic characters and circumstances that make historical fiction so much fun.His ability to create flowing fiction while keeping close adherence to real history is what makes this book work.Sticking with his primary theme, I'll leave you with a quote from Black's Da Vinci, who borrows from Dante: "lying on a featherbed...or under quilt, fame will not come, without which, your life consumed, you'll leave no more vestige of yourself on earth than smoke in air, or in the water spume".
Also by Samuel Black