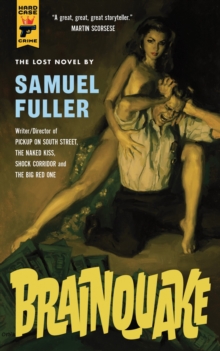 Description
The bagmen who transport money for organized crime live by a set of rules: no personal relationships, no ties, no women...and never, ever look inside the bag you're carrying.
Paul Page was the perfect bagman, despite suffering from a rare brain disorder.
But that ended the day he saw a beautiful Mob wife become a Mob widow.
Now Paul is going to break every rule he's lived by - even if it means he might be left holding the bag.
Information
Format: Paperback
Pages: 272 pages
Publisher: Titan Books Ltd
Publication Date: 12/08/2014
Category: Crime & mystery
ISBN: 9781781168196
Free Home Delivery
on all orders
Pick up orders
from local bookshops
Reviews
Showing 1 - 1 of 1 reviews.
Review by calum-iain
16/06/2015
This lost novel by filmmaker Samuel Fuller is volume 116 from Hard Case Crime and is a fast-moving, densely plotted thriller full of great characters and strange turns. The story revolves around Paul Pope a silent, lonely nondescript mob bagman who goes about his work with a quiet unquestioning efficiency and loyalty. He also suffers from strange, debilitating brain seizures that he refers to as "brainquakes" in which the world turns a hallucinatory pink and the sound of flutes fills his ears. Despite that all is well in his world until he meets "Ivory Face", the beautiful widow of a murdered mobster. Infatuated Pope breaks the habit of a lifetime running off with the widow, her child and a bag filled with $10 million of the mob's money. The syndicate don't take that lying down and sends their best contract killer, the deadly Father Flannigan after Pope and "Ivory Face". Unfortunately for the increasingly brainquake-prone Pope, his paramour "Ivory Face" may be playing her own twisted game. Samuel Fuller's films were known for their bold and stylistic intensity and his writing, if "Brainquake" is anything to go by, is equally bold and intense. He writes with great pace, the dialogue delivered in short, sharp exchanges. This cleverly builds a corrupt world of mobsters, enforcers, bosses, bagmen and bookies that thrums with sleazy back alley life. The action flows easily from one scene to the next, with the book characterised by a number of shocking, stand-out sequences – the execution of mob boss Rebecca possibly being the best and the most disturbing. Despite being a plot-driven book each of the main characters are highly memorable and beautifully developed, with detailed back stories that add depth and understanding to their motivations and their subsequent actions. We have Rebecca "The Boss" Plummer the mob chief who stays loyal to Pope against her own best interests; Lieutenant Helen Zara the black, beautiful and statuesque six-foot detective hot on the heels of the fugitives; Michelle "Ivory Face" Troy, the deadly widow playing her own wicked game and Paul Pope, the odd protagonist who barely has a life and who repeatedly falls into a mad world of shocking pink hallucination. The most singular character, however, is mob killer Father Flannigan, a man who can only see women naked and has a penchant for crucifying his victims. He's a brutal fascinating creation that gives every scene he appears in a bitter, creepy and frightening flavour. "Brainquake" then is a fast, non-stop, relentlessly brutal crime yarn that is peopled with a set of incredible, intense characters. Fuller tells the story with a lean and sure touch that makes it a wonder that the book went unpublished for so long. It is to Hard Case Crime and editor Charles Ardai that the novel has at last seen well-deserved publication.
Also in the Hard Case Crime series | View all