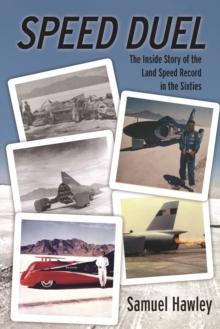 Speed Duel: The Inside Story of the Land Speed Record in the Sixties
Paperback / softback
Description
Until the 1950s, the land speed record (LSR) was held by a series of European gentlemen racers such as British driver John Cobb, who hit 394 miles per hour in 1947.
That record held for more than a decade, until the car culture swept the U.S.
Hot-rodders and drag racers built and souped up racers using car engines, piston aircraft engines and, eventually, jet engines.
For this determined and dedicated group, the LSR was no longer an honour to be held by rich aristocrats with industrial backing - it was brought stateside.
In the summer of 1960, the contest moved into overdrive, with eight men contending for the record on Utah's Bonneville Salt Flats.
Some men died in horrific crashes, others prudently retired, and by middecade only two men were left driving: Art Arfons and Craig Breedlove.
By 1965, Arfons and Breedlove had walked away from some of the most spectacular wipeouts in motor sport history and pushed the record up to 400, then 500, then 600 miles per hour.
Speed Duel is the fast-paced history of their rivalry.
Despite the abundant heart-stopping action, Speed Duel is foremost a human drama. Says author Samuel Hawley, It is a quintessential American tale in the tradition of The Right Stuff, except that it is not about extraordinary men doing great things in a huge government program.
It's about ordinary men doing extraordinary things in their back yards.A"
Information
Format: Paperback / softback
Pages: 360 pages, b&w photos
Publisher: Firefly Books Ltd
Publication Date: 01/01/2010
Category: Car racing
ISBN: 9781554076338