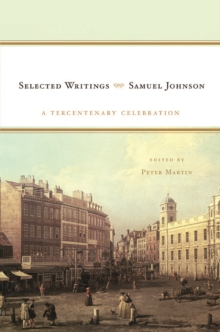 Samuel Johnson: Selected Writings : A Tercentenary Celebration
Paperback / softback
Description
Thanks to Boswell's monumental biography of Samuel Johnson, we remember Dr. Johnson today as a great wit and conversationalist, the rationalist epitome and the sage of the Enlightenment.
He is more often quoted than read, his name invoked in party conversation on such diverse topics as marriage, sleep, deceit, mental concentration, and patriotism, to generally humorous effect.
But in Johnson's own day, he was best known as an essayist, critic, and lexicographer: a gifted writer possessed of great force of mind and wisdom.
Writing a century after Johnson, Ruskin wrote of Johnson's essays: He "taught me to measure life, and distrust fortune...he saved me forever from false thoughts and futile speculations." Peter Martin here presents "the heart of Johnson," a selection of some of Johnson's best moral and critical essays.
At the center of this collection are the periodical essays from the Rambler, Adventurer, and Idler.
Also included are Johnson's great moral fable, Rasselas; the Prefaces to the Dictionary and his edition of Shakespeare; and selections from Lives of the Poets.
Together, these works-allied in their literary, social, and moral concerns-are the ones that continue to speak urgently to readers today.
Information
Format:Paperback / softback
Pages:536 pages
Publisher:Harvard University Press
Publication Date:31/05/2011
Category:
ISBN:9780674060340