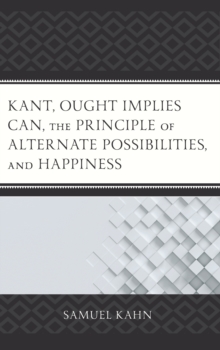 Kant, Ought Implies Can, the Principle of Alternate Possibilities, and Happiness
Hardback
Description
Throughout his corpus, Kant repeatedly and resolutely denies that there is a duty to promote one's own happiness, and most present-day Kantians seem to agree with him.
In Kant, Ought Implies Can, the Principle of Alternate Possibilities, and Happiness, Samuel Kahn argues that this denial rests on two main ideas: (1) a conception of duty that makes the principle of ought implies can (OIC) and the principle of alternate possibilities (PAP) analytic, and (2) the claim that humans necessarily promote their own happiness.
This book defends OIC and PAP but nonetheless attacks the second idea, and it supplements this attack with two additional arguments-an interpersonal one and an intrapersonal one-for the claim that a modern day Kantian ethics should affirm a duty to promote one's own happiness.
Information
Format: Hardback
Pages: 280 pages
Publisher: Lexington Books
Publication Date: 31/12/2018
Category: Philosophy
ISBN: 9781498519618
Also by Samuel Kahn