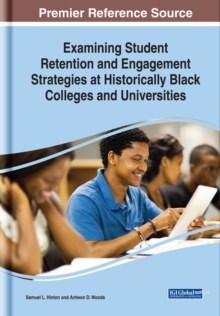 Examining Student Retention and Engagement Strategies at Historically Black Colleges and Universities
Hardback
Description
As higher educational learning enters a new age, Historically Black Colleges and Universities (HBCUs) are seeking innovative ways to establish strategies to compete with other academic institutions.
As establishments that have played a pivotal role in transforming the landscape of higher education, HBCUs are facing rapid transformation and various obstacles leading to questions regarding to the cost, quality, and sustainability of these institutions. Examining Student Retention and Engagement Strategies at Historically Black Colleges and Universities is a pivotal reference source that provides vital research on the role of HBCUs in today's higher education and the various research methods addressing student retention rates, success levels, and engagement.
While highlighting topics such as enrollment management, student engagement, and online learning, this publication explores successful engagement strategies that promote educational quality and equality, as well as the methods of social integration and involvement for students.
This book is ideally designed for researchers, academicians, scholars, educational administrators, policymakers, graduate students, and curriculum designers.
Information
Format: Hardback
Pages: 225 pages
Publisher: IGI Global
Publication Date: 30/10/2018
Category: Black & Asian studies
ISBN: 9781522570219