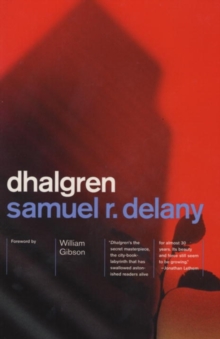 Information
Format: Paperback
Pages: 802 pages
Publisher: Random House USA Inc
Publication Date: 15/05/2001
Category: Science fiction
ISBN: 9780375706684
Other Formats
Paperback from £11.59
EPUB from £5.99
Free Home Delivery
on all orders
Pick up orders
from local bookshops
Reviews
Showing 1 - 5 of 24 reviews.
Previous | Next
Review by littlegeek
16/06/2015
Why I love Dhalgren...I read it first in my 20's, when I read lots of scifi and fantasy. The last time I read it was when I first moved to Santa Cruz and was living in a communal household with a bunch of other witches. It definitely resonated. Evocative and haunting, with stunning imagery. Plus, decades before Jonathan Safran Foer, the plot is a mobius strip. (so there) The image of the tree woman still haunts my dreams and there are non-judgmental depictions of aspects of the counterculture that just don't get discussed. If you hate hippies, skip it, but if you want to understand the 60's from someone who was there, pick it up.
Review by selfnoise
16/06/2015
I find this novel extremely difficult to describe. Whenever I try to pin down just exactly what it's about, I realize that it's mirroring my own ideas back to me. It's an extremely rare example of an experimental novel that succeeds so completely that it's hard to imagine anyone actually writing it.
Review by kambrogi
16/06/2015
It took me about a month to read this 801-page volume. A sci-fi adventure that explores an imaginary city in mid-America after a localized catastrophe that is never explained, it daringly skews much of what one expects from fiction. We don't know the main character's name (nor does he), the writing style moves in and out of prose and poetry, the story ends where it began and one's questions, on the whole, are never answered. The protagonist experiences life in a stream-of-consciousness series of episodes, where both time and reality are suspect, and the object of the journey is never clear. The book reminds me of both [Ulysses] and [Gravity's Rainbow], in that it's a multi-layered, myth-like tale. The difference, for me, was that here the characters are human and compelling, very well drawn, and thus charming or fascinating enough to sustain my interest. I enjoyed the book, and continue to meditate on its issues: race, reality, mental illness, gender, sexual preference, the writing life, the arts, music, light, politics, space exploration, violence, the military, the future, time, and on and on. William Gibson said it best in his comment that it is the "city-book-labyrinth that has swallowed astonished readers alive for almost 30 years …" And I among them.
Review by andreablythe
16/06/2015
Dhalgren was probably the most literary science fiction I have ever read. I suppose I say that because it had little to do with plot, in the sense that there really wasn't one. But the characters and their interactions are very interesting. Also, I really enjoyed looking at the way people try to assemble--not meaning--but some shape of a life from a society that has collapsed.Definitely a book that will challenge people's ideas on sexuality, as well as race, gender, and how to define art. Some of it was rather intense for me to read, so I would not recommend this book to anyone who is easily offended.
Review by cecily
16/06/2015
Some say that the incomprehensible nature of this book is what makes it a masterpiece. I say "WTF, Delaney?" Read it if you want to say you have, but you must be up for the challenge that this book presents. Bring a flashlight.