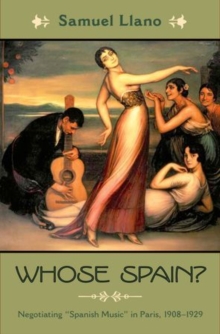 Whose Spain? : Negotiating Spanish Music in Paris, 1908-1929
Hardback
Description
From the very beginning of the nineteenth century, many elements of Spanish culture carried an air of 'exoticism' for the French-and nothing played more important of a role in shaping the French idea of Spain than the country's musical tradition.
However, as Samuel Llano argues in Whose Spain?, perceptions and representations of Spanish musical identities changed in the early twentieth century, due to the emergence of the hispanistes.
These specialists onSpanish music and culture, who wrote encyclopedic and 'scientific' articles on 'Spanish music,' strived to endow the world of Spanish music with a sense of authority and knowledge.
Yet, the writings of those hispanistes and other music critics showed a highly sensationalist attitude, aimed at describing'Spanish music' in a way that was instrumental to the interests of French musicians.
At the same time, the Spanish fought to articulate their own identities through the creation and performance of new musical works. In this book, Llano analyzes the socio-political discourses underpinning critical and musicological descriptions of 'Spanish music' and the discourse's connection with French politics and culture.
He also studies operas and other musical works for the stage as privileged sites for the production of Spanish musical identities, given the enhanced possibilities of performance for cultural and critical engagement.
The study covers the period 1908 to 1929, when representations of 'Spanish music' inthe writings of the hispaniste Henri Collet and other French musicians underwent several transformations, mostly sparked by the need to reformulate French identity during and after the First World War.
Ultimately, Llano demonstrates that definitions of 'French' and 'Spanish' music were to some extentinterdependent, and that the public performances of these pieces even helped the musical community in France to begein to reformulate their notions of 'Spanish music' and identity.
Free Home Delivery
on all orders
Pick up orders
from local bookshops
Also in the Currents in Latin American and Iberian Music series | View all