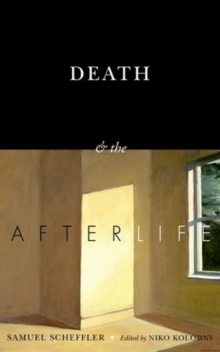 Death and the Afterlife
Hardback
Description
We normally take it for granted that other people will live on after we ourselves have died. Even if we do not believe in a personal afterlife in which we survive our own deaths, we assume that there will be a "collective afterlife" in which humanity survives long after we are gone.
Samuel Scheffler maintains that this assumption plays a surprising - indeed astonishing - role in our lives. In certain important respects, the future existence of people who are asyet unborn matters more to us than our own continued existence and the continued existence of those we love. Without the expectation that humanity has a future, many of the things that now matter to us would cease to do so.
By contrast, the prospect of our own deaths does little to undermine ourconfidence in the value of our activities. Despite the terror we may feel when contemplating our deaths, then, the prospect of humanity's imminent extinction would pose a far greater threat to our ability to lead value-laden lives: lives structured by wholehearted engagement in valued activities and pursuits. This conclusion complicates widespread assumptions about human egoism and individualism. And it has striking implications for the way we think about climate change, nuclearproliferation, and other urgent threats to humanity's survival. Scheffler adds that, although we are not unreasonable to fear death, personal immortality, like the imminent extinction of humanity, would also undermine our confidence in the values we hold dear. His arresting conclusion is that, in order for us to lead value-laden lives, what is necessary is that we ourselves should die and that others should live. Scheffler's position is discussed with insight and imagination by four distinguished commentators - Harry Frankfurt, Niko Kolodny, Seana Shiffrin, and Susan Wolf - and Scheffler adds a final reply. "This is some of the most interesting and best-written philosophy I have read in a long time.
Scheffler's book is utterly original in its fundamental conception, brilliant in its analysis and argument, and concise and at times beautiful in its formulation." Stephen Darwall, Yale University"[Scheffler's] discussion of the issues with which he has concerned himself is fresh and original. Moreover, so far as I am aware, those issues are themselves pretty much original with him. He seems really to have raised, within a rigorously philosophical context, some new questions. At least, so far as I know, no one before has attempted to deal with those questions so systematically. So it appears that he has effectively opened up a new and promising field of philosophical inquiry. Notbad going, in a discipline to which many of the very best minds have already devoted themselves for close to three thousand years." -Harry Frankfurt, Princeton University, from 'How the Afterlife Matters' (in this volume)""A truly wonderful and very important book." - Derek Parfit, Emeritus Fellow, All Souls College, University of Oxford
Other Formats
PDF from £14.24
EPUB from £14.24
Paperback / softback from £14.99
Free Home Delivery
on all orders
Pick up orders
from local bookshops
Also in the The Berkeley Tanner Lectures series | View all