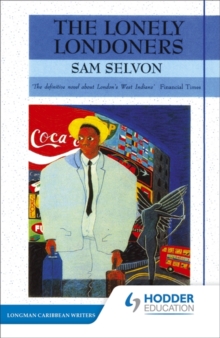 The Lonely Londoners
Paperback
Description
The Lonely Londoners from the brilliant, sharp, witty pen of Sam Selvon, this is a classic award-winning novel of immigrant life in London in the 1950s.
Information
Format: Paperback
Pages: 144 pages
Publisher: Hodder Education
Publication Date: 29/05/1979
ISBN: 9780582642645
Free Home Delivery
on all orders
Pick up orders
from local bookshops
Reviews
Showing 1 - 4 of 4 reviews.
Review by maboeln
16/06/2015
Once I grew used to the dialect, I amazed myself by loving this book.
Review by MsNikki
16/06/2015
Like I said, I know people like this. Selvon can discuss serious issues so subversively...Male me laugh.
Review by whitewavedarling
16/06/2015
This is a quick read once you get used to the language of the narration. After rereading the first paragraph a few times to get started, I ended up finishing off the book in one sitting. Driven by character studies and a cynical humor, the narrative works on various levels to illustrate and critique the state of a divided 1950s London society. Exploring the admirable and the questionable among a group of immigrants/exiles/explorers from the Caribbean, Selvon creates a journey through daily passions and humors. It is fast, engaging, humorous, and ultimately mysterious in where lines can be drawn for fiction and documentation, character and stereotype, narrator and author and character, and ironic illustration and objective tale. In short, the tale is hard to pin down, becoming more complicated with each moment the reader spends questioning, for theapparent simplicity here is deceptive. Selvon's created a smart careful book here---one worth reading for pleasure and rereading for fuller thought.
Review by est-lm
16/06/2015
The Lonely Londoners centers around the life of Moses Aleotta, a West Indian, who has lived in London for 10 years. He makes a new friend named Galahad who is struck by the brilliance of London. Moses sees himself in this newcomer, how at first he was full of hopes and dreams that diminished during his ten years of living there, and knows that Galahad will become disillusioned. Though he attempts to not get Galahad's hopes up, Moses himself changes throughout the novel and becomes hopeful again,as he discovers that if his West Indian community sticks together, they can still live in their own culture and find ways to survive in London.

This is the story of London's West Indians who face racism and a limited number of opportunities. What I found really interesting about this novel is how it is written in the vernacular, a West Indian English which gave the novel a different rhythm. This novel is a gem, I am glad one of my professors had the class read it. It is definitely a great starting point if you want to read more Caribbean literature.