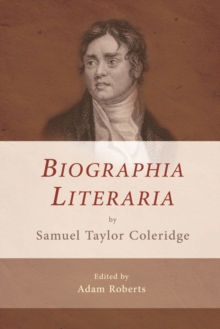 Biographia Literaria by Samuel Taylor Coleridge
Hardback
Description
This is a new, fully annotated critical edition of this key Romantic text.
This new edition of the Biographia supersedes all previous editions.
Crucially, it takes into consideration three decades of research and scholarship on Coleridge and includes all Coleridge's references and allusions.
In tracing all unattributed references, Adam Roberts has in some cases opened up whole new avenues of interpretation for the text, materially altering or changing the way we read this classic work.
This new scholarly edition for a 21st-century readership includes a detailed Critical Introduction, a Textual Introduction, the text of the Biographia Literaria, including Coleridge's notes and editorial footnotes; Endnotes; and a Bibliography.
It is likely to stand as the definitive textual edition for many years to come.
This is the first edition of the Biographia in 3 decades and the first ever to identify all of Coleridge's many allusions and quotations.
It draws on the most up-to-date scholarship on the text.
It fully explains the genesis, the poetic and philosophical contexts and debates surrounding the text.
It provides the chance to revitalise Romanticism studies more generally.
Free Home Delivery
on all orders
Pick up orders
from local bookshops
Also by Samuel Taylor Coleridge | View all