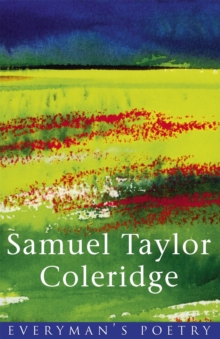 Coleridge: Everyman's Poetry
Paperback
Description
The best of Samuel Taylor Coleridge's poems in a beautiful new gift editionSamuel Taylor Coleridge (1772-1834) was educated at Christ's Hospital, London and Jesus College, Cambridge.
Close collaboration with Wordsworth resulted in joint production of the volume Lyrical Ballads in 1798, which contained Coleridge's 'The Rime of the Ancient Mariner', signposting the Romantic movement.
After wintering in Germany in 1797-8 he settled in the Lake District, where he wrote the 'Letter' that turned into 'Dejection: An Ode' (1802).
In later years Coleridge turned increasingly to prose, covering philosophical, political, religious and critical subjects, although new poems continued to appear in most years until his death.
Information
Format: Paperback
Pages: 128 pages
Publisher: Orion Publishing Co
Publication Date: 19/08/1996
Category: Poetry by individual poets
ISBN: 9780460878265
Free Home Delivery
on all orders
Pick up orders
from local bookshops
Reviews
Showing 1 - 1 of 1 reviews.
Review by Luli81
16/06/2015
That willing suspension of disbelief for the moment, which constitutes poetic faith. Samuel Taylor Coleridge.Although this is a very short selection I have taken my time to savor each of its poems, as they deserve. I had always heard of Coleridge associated with Wordsworth so I assumed their works to be similar and therefore wasn't expecting fireworks. One of the advantages of ignorance is that from time to time you are pleasantly rewarded with unexpected surprises.I felt instantly drawn to Coleridge's poems, which resemble Wordsworth's in its idealization of nature and its emphasis on human joy, but Coleridge's often favor musical effects over the plainness of common speech, making them sound alien and strangely perceptive.Take his poem Kubla khan:In Xanadu did Kubla KhanA stately pleasure-dome decree:Where Alph, the sacred river, ranThrough caverns measureless to manDown to a sunless sea.He is daring when Wordsworth was conservative, introducing some fantasy and mysticism in his poems, creating a more strikingly stylized effect than his contemporary.Further, Coleridge's poems complicate the idea Wordsworth takes for granted: the simple unity between the child and nature and the adult's reconnection with nature through memories of childhood.In poems such as Frost at Midnight Coleridge manages to mingle the fragility of a child's innocence by relating his own urban childhood. No exultation of nature in here.In his evocative Nightingale he reassesses the division between his own mind and the beauty of the natural world, without intention to become changed by it. He is only a humble spectator who marvels at what he sees:And hark! the Nightingale begins its song,'Most musical, most melancholy' bird!In Nature there is nothing melancholy.Finally, Coleridge often privileges weird tales and bizarre imagery over the commonplace, rustic simplicities Wordsworth stands up for; the The rime of the ancient Mariner with spectrum sailing a cursed ship towards the South Pole, would have been out of place in a Wordsworth's poem. Strangely, Moby Dick and ghostly Poe came to my mind with this poem.If Wordsworth represents the central pillar of early Romanticism, Coleridge is nevertheless an important structural support. His emphasis on the imagination, its independence from the outside world and its creation of fantastic pictures exerted a profound influence on later writers such as Shelley or Byron. Colerigde's often exposed feelings of alienation and numbness helped to define more sharply the Romantics'idealized contrast between the emptiness of the city and the joys of nature. But what really made the difference for me is that the source of Coleridge's poems seems to be emotion recollected in emotion, whereas in Wordsworth it was emotion recollected in consciousness. Coleridge maintains not only an emotional intensity but also a predominant intellectual presence, applying constant philosophical pressure to his ideas, his figure closer to a thinker of poetry than a poet; probably an idealist, brilliant yet tragically unable to attain his own ideals. I can easily believe, that there are more invisible than visible Beings in the universe. But who shall describe for us their families? and their ranks and relationships and distinguishing features and functions? What they do? where they live? The human mind has always circled around a knowledge of these things, never attaining it. I do not doubt, however, that it is sometimes beneficial to contemplate, in thought, as in a Picture, the image of a greater and better world; lest the intellect, habituated to the trivia of daily life, may contract itself too much, and wholly sink into trifles. But at the same time we must be vigilant for truth, and maintain proportion, that we may distinguish certain from uncertain, day from night.Some might say I'm portraying the "Romantic genius stereotype" in Coleridge but allow me the pleasure of exultation in such a thrilling discovery.
Also by Samuel Taylor Coleridge | View all
Also in the EVERYMAN POETRY series | View all