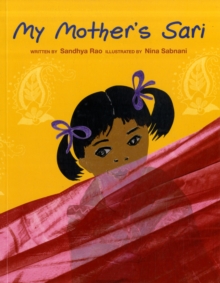 My Mother's Sari
Paperback
Information
Format: Paperback
Pages: 32 pages, full-colour illustrations throughout
Publisher: North-South Books
Publication Date: 01/01/2009
Category: Picture books
ISBN: 9780735822337
Free Home Delivery
on all orders
Pick up orders
from local bookshops
Reviews
Showing 1 - 5 of 5 reviews.
Review by karinaw
16/06/2015
Personal Response:The inside covers of the book shows a child putting on a sari with step by step instructions. I felt that this was an excellent way to show how a traditional Indian garment is worn. The photographs provided a nice introduction to the patterns and colors of actual material used for saris. Finally the drawings made it very age appropriate because they looked like juvenile drawings which would be familiar to young children. Curricular or Programming Connections:7.One activity would be to have children follow picture directions in the book that show how to put on a sari. You could provide various patterns of traditional Indian fabrics to show different styles from the region. After reading the book, ask children if they can think of other things they could do with a sari. Have them use their imaginations to think of other games and activities using the sari. This book could also be combined with other books, lessons and activities to learn about Indian culture, holidays, food, etc.
Review by bokeef2
16/06/2015
My Mother's SariBryan O'KeeffeI had almost completely forgot what a sari was until I read this book. The book was really cute. I enjoyed reading about the little girl who loves playing with her mother's sari. The book was very easy and fast to read, each page flowed right into the next. The story was accompanied by really cute drawings that I felt fit the book perfectly. The sari was generally the largest object on the page and was used for so many different things. I even enjoyed the very beginning and end of the book and how there were instructions on how to tie a sari. I did not know how a sari was put on and now I do because of those instructions. The little girl in the story seemed like every little Indian girl that falls in love with her mother. She is completely obsessed about the sari and does everything. The message in this book was really cute, children see things differently.
Review by Sluper1
16/06/2015
I liked this book because it resembles the relationship between a mother and a daughter. First, the illustrations enhance the story and help the reader understand the plot better. For example, each page of the book represents what the character is doing. Also, the book portrays the cultural background and how the sari can be elegant yet so grateful. The little girl feels connected to her mother through her sari.
Review by ehayne1
27/08/2015
I liked this book because it took something that is a mystery to many people and explained it in a clear way. This book told what a sari looked like, how it feels, what it represents to children, and how to wear it. I know I have always wondered how to wear a sari, and this book gave a clear explanation with pictures. This book also took a simple garment and made it into something more with the quote: "I love my mother's sari and how it makes me dream." When a person looks at a sari, they usually just see it as a pretty article of clothing, but to a child, it means so much more.
Review by mskell2
27/08/2015
My Mothers Sari is a story that should only be read to or by younger grade students. K-2nd are the only grades that this book would be intellectually appropriate for. Most of the text is in the format of one, short sentence per page. The illustrations make up for the lack of text, for the book is mostly visual. The illustrations explain what is happening in the text so that students who are more visual can follow along. The main message of this story would probably be the bond or connection between mothers and young children. However it is odd though, because the mother is never actually present or pictured one time in the story.