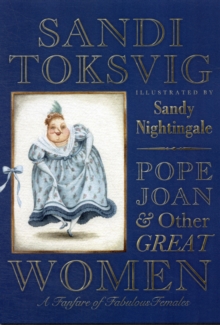 Heroines and Harridans : A Fanfare of Fabulous Females
Hardback
Description
Heroines and Harridans is a tale of eccentricity (generally British), some bad behaviour (occasionally American) and rather odd love lives (some corking aristocrats).
It is not by chance that the relation of matters in the past are called 'History'.
It is, generally, 'his story' with many men doing grand things while the women stayed home to make the soup.
Heroines and Harridans gives another, highly entertaining view on life as comedian Sandi Toksvig brings her trademark wit and humour to bear on 22 portraits of as eccentric a melange of women throughout history as you are ever likely to find.
All of the featured characters were terrific good fun, helped shape the world they lived in but in many cases disappeared into obscurity.
Each of Toksvig's gloriously funny pen portraits is accompanied by equally striking and imaginative illustrations by artist Sandy Nightingale.
Information
Format: Hardback
Pages: 160 pages, illustrations
Publisher: Biteback Publishing
Publication Date: 11/10/2012
Category: Humour
ISBN: 9781849543385
Free Home Delivery
on all orders
Pick up orders
from local bookshops
Reviews
Showing 1 - 1 of 1 reviews.
This book is too short by far. It needs to be a huge tome with lengthy entries on all of these women, because it is as informative as it is entertaining. It certainly made me think about the gaps in my historical (or, HIStorical... or, hystorical?) knowledge. <br/><br/>I ended up once again pondering a point I've pondered before, that even if some characters are mythical rather than historical, it's important to read the myth because a fictional queen who fought on after losing a leg and having it replaced with a prosthetic limb says as much about the myth makers/believers as it does about the queen.<br/><br/>Some of the women in this book existed and were amazing. Some of the women in this book might not have existed at all, but the presence of their mythology points to there being a place for women to occupy other than as the great woman <I>behind</I> every great man (not that I have anything against men's behinds).<br/><br/>That's the content; there's also the writing. It's written by Sandi Toksvig, with the kind of excited enthusiasm reserved for really good cake, and there's also her customary dry cheeky wit. The illustrations are also fabulous, each woman rendered as a buxom beauty by Sandy Nightingale.<br/><br/>I enjoyed the hell out of this. Highly recommended.