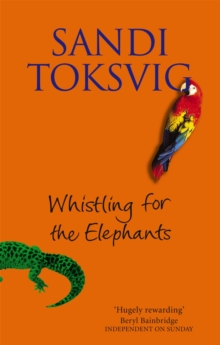 Whistling for the Elephants
Paperback
Description
There are two basic types of animal in Nature's Kingdom. The first, like lions and turtles, produce many offspring and simply hope that some will survive. The second, like elephants and people, produce one or two at long intervals and make great efforts to rear them. My mother belonged in a class of her own. She produced two at short intervals and made no effort to rear them whatsoever.Thus Dorothy, aged ten, finds herself making her own way in Sassaspaneck, New York in 1968. Her English father, who never talks above a whisper due to a youthful injury with a cricket ball, has tucked her and her mother away where the potential for embarrassment can be limited. All the other children in town have gone to camp, so Dorothy must provide her own entertainment. She comes across a small, faded zoo on the outskirts of town, and as she begins to get to know the eccentric group of women who live there she begins to discover a world way beyond the one she has glimpsed so far.
Information
Format: Paperback
Pages: 304 pages
Publisher: Little, Brown Book Group
Publication Date: 07/03/2002
ISBN: 9780751532869
Free Home Delivery
on all orders
Pick up orders
from local bookshops
Reviews
Showing 1 - 4 of 4 reviews.
Review by eleanor_eader
16/06/2015
Precisely what I expected, only betterWhen I picked up 'Whistling for the Elephants' – my first reading of Sandi Toksvig's work – I expected wit, cleverness and perhaps a dash of some deeper brilliance; after all, I had only the author's reputation as a comedienne by which to pre-judge her writing.What I did not suspect was the force of passion and inspiration instilled by some subtle, clever storytelling. 'Whistling' is competent enough to be compared to Fannie Flagg's writing; the array of astonishing characters, all convincing and none leaving the reader unsatisfied, the humour within tragedy, the banal and the fantastic side by side, the fabulous setting, the series of events, spiralling out of everyone's control but the author's. It is autobiographical in style (though not substance), told from the point of view of a ten year old British girl trying to define herself in a new country, the themes of feminism and – more importantly – the ability of women to stand out both in history and in the lives of those around them are dealt with charmingly and without bitterness.There is history and back-story to be discovered, too, making for an uncommonly rich fiction; and we are not pandered to – everything that transpires, then and now, is laced with a streak of imperfection, sadness, and the sense of deep wounds dealt – and yet Toksvig's strength is in getting us to respond to these characters anyway, to yearn for them as the young narrator does.I will be reading more of Sandi Toksvig's books. Sadly, none will now surprise me, but that doesn't mean I am not prepared to wonder at the sheer richness of this storytelling mind.
Review by Libbeth
16/06/2015
I am writing this quick review two years after reading this book, as a library book, so I don't have it to refer to, but I do remember with great fondness the description of the first encounter with the elephants and also the elephants and the swimming pool.
Review by pussreboots
16/06/2015
There are a few glaring errors that have twice stopped me reading in mid sentence. First is the Pledge of Allegiance which is misquoted. The second is the mentioning of the Brady Bunch being on in early summer of 1968. It didn't start airing until September of the next year. There are also some instances of Britishisms being spoken by American characters. None of these things would bother me if the story wasn't priding itself on getting the details right. I enjoyed the book up until the last twenty pages. I don't particularly like the ending. It felt rushed and forced. I especially didn't like what happened to Perry but then I'm a mother of a kid his age.I wish the the author hadn't stated that it was 1968. If she had been vaguer about when exactly the book takes place, it would have been better. There are some pop culture references that she gets wrong that could have slid if it didn't have to be the summer of 1968.
Review by nebula21
27/08/2015
This is a charming book that is amusing in parts however the story is just not compelling. Toksvig created good characters that were very well written, but I found myself just trying to get through the book rather than enjoying the read.