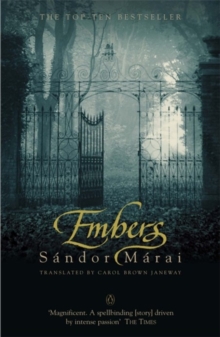 Description
A castle at the foot of the Carpathian mountains in the 1930s. Two men, inseparable in their youth, meet for the first time in forty-one years.
They have spent their lives waiting for this moment.
Four decades earlier a murky, traumatic event - something to do with a betrayal, and a woman - led to their sudden separation. Now, as their lives draw to a close, the devastating truth about that moment will be revealed.
EMBERS is a masterpiece - an unforgettable story of passion, fidelity, truth and deception.
Information
Format: Paperback
Pages: 256 pages
Publisher: Penguin Books Ltd
Publication Date: 02/12/2001
ISBN: 9780141004310
Free Home Delivery
on all orders
Pick up orders
from local bookshops
Reviews
Showing 1 - 5 of 10 reviews.
Previous | Next
Review by stilton
16/06/2015
I read this during a particularly damp winter on a succession of particularly old and cold busses. Good story, terrific atmosphere.
Review by gilporat
16/06/2015
The long speeches were interesting. I'm glad I read it, but I'm not sure I would suggest it to others.
Review by heidijane
16/06/2015
At a castle in the 1930s, two men meet for the first time in 41 years. Four decades earlier a murky, traumatic event, concerning a woman, led to their sudden separation. Now, as their lives draw to a close, they are keen to draw a line under this event ...This was quite an enjoyable book. It did jump around in time quite a lot, and the main bulk of the story covered one of the men telling his side of the story, so it was sometimes a bit difficult to follow. Given the big build-up, the ending was also somewhat of a disappointment, or maybe it was meant to be intriguing? Certainly, I would recommend this book, but don't expect any answers in a hurry...
Review by dquazzo
16/06/2015
two "brothers" brought up with very diff backgrounds -- henrik, wealthy aristocrat and konrad, poor. konrad fell in love with henrik's wife. konrad runs away - mystery is whether he meant to kill henrik but was afraid ti. kristztina, wife/lover. the embers contain her diary with all answers. men have old age reunion. south america -- vivid, tactile jungle/forest.
Review by BudaBaby
16/06/2015
Suspenseful novel about deceipt, betrayal, and revenge, and how love destroyed three lives. The style is reminiscent of Marquez, where the ghosts of the past still have a strong hand in the present, because they have the ability to suspend time.