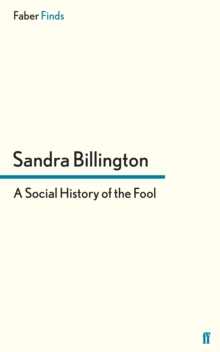 A Social History of the Fool
Paperback / softback
Description
'Historian and actress Sandra Billington takes us on an entertaining, illuminating and extremely informative journey.
This unique book is essential reading for all serious fools and clowns.' Mike LeighWho is the Fool and what does he mean to us?
Pre-1900 scholars thought him a Renaissance fashion, a continental import of note in the British Isles only between 1486 and the 1630s, per his appearances in Shakespeare.
But, as Sandra Billington shows in this superb study, the Fool has been with us far longer, and has worn many guises: village idiot and sophisticated comedian, embodiment of Satan and God's own jester.
Information
Format: Paperback / softback
Pages: 160 pages
Publisher: Faber & Faber
Publication Date: 19/03/2015
Category: Social & cultural history
ISBN: 9780571299980
Also by Sandra Billington