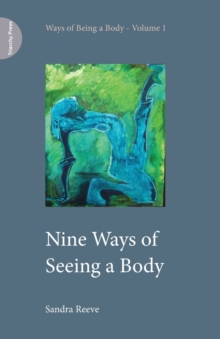 Nine Ways of Seeing a Body
Paperback / softback
Description
We're used to recognizing that people have different ideas of what constitutes a nation, an organisation, one's self, etc.
But the human body? Surely that's a more solid and tangible thing? In fact, people in different cultures and at different times in history, have held radically different ideas about the body.
Understanding these differences is an essential step for anyone trying to understand different approaches to medicine, dance, theatre, psychotherapy, sex and ecology. This book presents nine lenses through which the body is conventionally viewed: The body as object (Descartes' approach, linked to modern, Western individualism and as usually viewed by Western, allopathic medicine); the body as subject (with reference to physical theatre and the work of directors and writers like Peter Brook, Jerzy Grotowski and Eugenio Barba); the phenomenological body (the view that the body holds its own meaning - this is the idea of the 'lived' body as discussed by Husserl and Merleau-Ponty, amongst others); the somatic body (familiar to Feldenkrais, Body-Mind Centering and somatics practitioners); the contextual body (paying attention to self-reflection and self-awareness in the context of the body's surroundings - here are the beginnings of ecopsychology); and, the interdependent body (as reflected by matching, guiding and kinetic mirroring in movement work and by the growing field of kinaesthetic empathy). The environmental body (as discussed by Maturana and Varela's Santiago theory of cognition; this approach looks at incorporated habits and the effect of moving in nature); the cultural body (here there is an awareness of culturally specific, daily-life movement and close links with Csordas' view of embodiment); the ecological body (drawing on Suryodarmo's Amerta Movement, on Buddhist mindfulness and on notions of 'interbeing'.
An awareness of being 'among' rather than 'at the centre of'.
Dr Sandra Reeve's groundbreaking approach to the ecological body and ecological movement matches emerging developments in design thinking and ecological thinking.
Information
Format: Paperback / softback
Pages: 72 pages, Illustrations
Publisher: Triarchy Press
Publication Date: 25/06/2011
Category: Dance & other performing arts
ISBN: 9781908009326
Free Home Delivery
on all orders
Pick up orders
from local bookshops