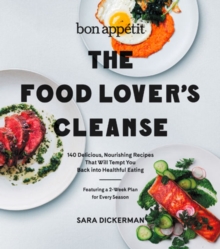 Bon Appetit: The Food Lover's Cleanse : 140 Delicious, Nourishing Recipes That Will Tempt You Back into Healthful Eating
Hardback
Description
Reboot your eating habits with Bon Appetit's wildly popular online plan, now expanded for the whole year with four two-week seasonal plans and 140 recipes.
With a foreword by Adam Rapoport. What began as an interactive post-holiday plan that puts an emphasis on home cooking and whole foods, the Bon Appetit cleanse has now been expanded for the entire year.
Inside you'll find four different two-week cleanse plans, one for each season, and 140 fabulous recipes that use fresh, flavorful, unprocessed ingredients.
High in fruits, vegetables, and whole grains-with no refined flours, very limited dairy and saturated fats, little to no alcohol or coffee (and a small serving of dark chocolate!)-the program emphasizes eating mindfully, controlling portion size, and curbing grazing impulses.
Empty calories are replaced with filling protein- or fiber-rich snacks. Following the principle that delicious home-cooked meals are the best way to develop long-lasting healthy eating habits, the tasty recipes in The Bon Appetit Food Lover's Cleanse-most exclusive to the book-can be enjoyed throughout the year using a variety of seasonal ingredients. The food is enticing enough to convince you to give up everyday staples like white pasta, bread, and processed meats.
With the Bon Appetit program, you'll discover bold and rich fare such as Warm Brussels Sprout Slaw with Mustard Seeds and Walnuts (winter); Lemongrass Shrimp with Mushrooms (spring); Zucchini Tacos with Cabbage and Queso Fresco (summer); and Oven-Roasted Chicken with Grapes (fall). Designed to encourage good lifelong eating practices, The Bon Appetit Food Lover's Cleanse is essential for healthy, appetizing, and satisfying food you can feel good about every day of the year.
Information
Format: Hardback
Pages: 352 pages
Publisher: HarperCollins Publishers Inc
Publication Date: 28/01/2016
Category: Diets & dieting
ISBN: 9780062390233