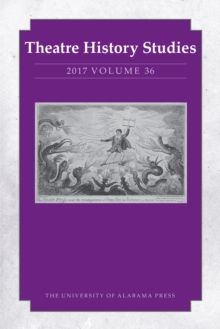 Theatre History Studies 2017, Volume 36
Paperback / softback
Description
A peer-reviewed journal of theatre history and scholarship published annually since 1981 by the Mid-American Theatre Conference.
Theatre History Studies is devoted to research in all areas of theatre studies, with special interest in archival research, historical documentation, and historiography.
Many issues feature a special section curated around a special theme or topic; for 2017 that special section focus on histories of new writing for the theatre.
Featured in Theatre History Studies 2017, Volume 36 : i?1/2Resisting Arlecchino's Mask: The Case of Marcello Morettii?1/2 by Gabrielle Houle i?1/2Making Space for Performance: Theatrical-Architectural Nationalism in Postindependence Ghanai?1/2 by David Afriyie Donkor i?1/2Preparing Boys for War: J.
M. Barrie's Peter Pan Enlists in World War I's aEURO~Great Adventure'i?1/2 by Laura Ferdinand Feldmeyer i?1/2Not Just Rock aEURO~n' Roll: Chicago Theatre, 1984aEURO"1990i?1/2 by Julie Jackson i?1/2New Writing and Theatre Historyi?1/2 by Sara Freeman i?1/2New Plays in New Tongues: Bilingualism and Immigration at the New Italian Theatre in Francei?1/2 by Matthew McMahan i?1/2The Waterloo Summer of the Prince of Wales's Theatre: New Writing, Old Friends, and Early Realism in the Victorian Theatrei?1/2 by Shannon Epplett i?1/2Chekhov's Three Sisters: A Proto-Poststructuralist Experimenti?1/2 by Sarah Wyman i?1/2Historicizing Shakesfear and Translating Shakespeare Anewi?1/2 by Lezlie C.
Cross i?1/2A New Noble Kinsmen: The Play On! Project and Making New Plays Out of Oldi?1/2 by Martine Kei Green-Rogers and Alex N.
Vermillion i?1/2Making New Theatre Together: The First Writers' Group at the Royal Court Theatre and Its Legacy Within the Young Writers' Programmei?1/2 by Nicholas Holden i?1/2New Writing in a Populist Context: A Play,a Pie, and a Pinti?1/2 by Deana Nichols i?1/2American Playwriting and the Now Newi?1/2 by Todd London The Robert A.
Schanke Award-Winning Essay: i?1/2Black Folk's Theatre to Black Lives Matter: The Black Revolution on Campusi?1/2 by La Donna L.
Forsgren
Information
Format: Paperback / softback
Pages: 368 pages, 12 black & white figures
Publisher: The University of Alabama Press
Publication Date: 28/02/2018
Category: Theatre studies
ISBN: 9780817371111
Free Home Delivery
on all orders
Pick up orders
from local bookshops