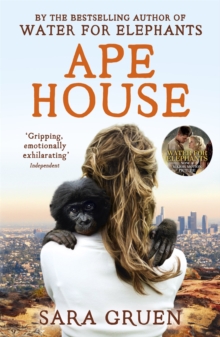 Description
The New York Times bestseller - of how six bonobo apes change the lives of three humans, from master storyteller Sara Gruen, author of the international bestseller, Water for Elephants.These bonobos are no ordinary apes.
Like others of their species, they are capable of reason and carrying on deep relationships - but, unlike most bonobos, they also know American Sign Language.Isabel Duncan, a scientist at the Great Ape Language Lab, doesn't understand people, but animals she gets, especially the bonobos.
Isabel feels more comfortable in their world than she's ever felt among humans . . . until she meets John Thigpen, a very married reporter who braves the ever-present animal rights protesters outside the lab to see what's really going on inside.When an explosion tears apart the lab, severly injuring Isabel and 'liberating' the apes to an unknown destination, John's human interest piece turns into the story of a lifetime.
Information
Format: Paperback
Pages: 384 pages, None
Publisher: Hodder & Stoughton General Division
Publication Date: 01/09/2011
ISBN: 9781444716023
Free Home Delivery
on all orders
Pick up orders
from local bookshops
Reviews
Showing 1 - 1 of 1 reviews.
Review by tina1969
16/06/2015
What happens when you take six extroadinary bonobos apes who know sign language, a scientist who understands them and an animal protestors group who liberate the animals into the wrong hands, a TV producer.My Thoughts:I liked 'Water of Elephants' very much and had high expectations for this book. However I felt rather let down by at as it wasn't half as good. The story was OK and the book started off very promising. I could see that if there were something not quite the norm that somebody would like to exploit it for money, so yeah the story worked.I know nothing at all about the Bonobos and have done nothing to look into them so had great difficulty comprehending their behavior, I felt it seemed a little far fetched.My problem was that I could feel no emotion from the book and I didn't connect with the book. As the story progressed I felt I was getting rather bored with it. I was even at the point of flicking through the very quarter of the book. Infact I think I missed who actually sold the apes and I can't be bothered to pick up the book to find out, I have lost interest completely. This for is a shame because W for E wa such a good book. A very poor read !