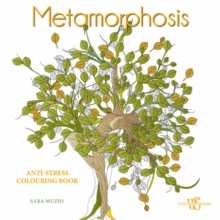 Metamorphosis: Anti-Stress Colouring Book
Paperback / softback
Description
Metamorphosis has been represented much throughout history, through art, music and literature in the works of Kafka, among others.
This exceptional colouring book draws on this theme and solely looks at the beauty of transformations in nature. The rich details of this book offer surprises to be found, as readers colour each page and reveal something different from what each drawing appears to be.
Engaging the mind in such a rewarding and creative activity has been proven to reduce stress and, now with this innovative title, colourers will enjoy something a little different. ILLUSTRATOR: Sara Muzio has over ten years of experience working in graphic design and illustration.
In 2002, after earning a degree in Medical Illustration, she began working for small graphic design studio and in 2004 she became the scientific illustrator for Lumen Edizioni, where she completed a postgraduate course on publishing and advertising graphics.
From 2005 to 2011, Sara worked as a freelance graphic designer for private clients as well as public entities and publishing houses.
From 2011 to 2013, she was the graphic and packaging designer for Sambonet Paderno Industrie S.p.a.
She currently works as a freelance graphic designer and as the Marketing Assistant for "La Salute nel Sale", a halotherapy centre with locations in Vercelli and Casale, Italy.