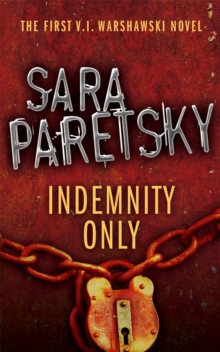 Description
Meeting an anonymous client on a sizzling summer night is asking for trouble.
Especially when the client lies and tells V.I. Warshawski he's the prominent banker John Thayer, looking for his son's missing girlfriend.
But V.I. soon discovers the real John Thayer's son - and he's dead. As V.I. begins to question her mysterious client's motives, she sinks deeper into Chicago's darker side: a world of gangsters, insurance fraud and contract killings. And while she must concentrate on saving the life of someone she has never met, it becomes clear that she is in danger of losing her own.
Information
Format: Paperback
Pages: 304 pages, n/a
Publisher: Hodder & Stoughton General Division
Publication Date: 01/07/2007
ISBN: 9780340935125
Free Home Delivery
on all orders
Pick up orders
from local bookshops
Reviews
Showing 1 - 1 of 1 reviews.
Review by gaskella
16/06/2015
Meet V.I. Warshawski – friends get to call her Vic, never Vicky. Indemnity only is the first in a series of 13 novels featuring the sassy Chicagoan PI.One evening she meets a new client, a banker, who wants her to find his son's missing girlfriend. Vic goes to the boy's pad to find him dead at the kitchen table with an expertly placed bullet through his head. No sign of the girlfriend. However it appears that she was set up to find the body, the banker turns out to be a union boss and the girlfriend is his daughter, and its obvious that the gangs are involved too. From there Vic goes on to eventually uncover massive insurance frauds, but not before getting badly beaten up, having a bit of romance too - and there's still the missing girl to find.I liked Vic immensely – she's strong, feisty and very independent; she's feminine too. She had a Polish father and Italian mother, both now passed away. Her father was a good policeman and Vic takes after him having a very strong sense of social justice – it seems almost natural that she should have become a detective. Meanwhile her mother has left her with a love of opera and fashion – what other PI could get beaten up in a navy silk suit (chargeable!).Some years ago, I read one of the mid-series titles which I enjoyed, and I always planned to read more. Earlier this year, I went to an event with Sara Paretsky which I reported on on my blog and now I've finally got round to starting back at the beginning (with my signed copy!). The book is set during the late '70s going into the '80s having been published in 1982. Back then Warshawski was one of a kind and she's become a popular crime heroine. Sure, the dialogue is a little clunky at times, but Chicago comes alive. Plot-wise, it's quite complicated being set in the world of finance, but the action makes up for that keeping it fast moving and easy to read. Now we've met Vic, I'm looking forward to reading more as there's a lot of corruption still out there for her to tackle. (7/10) I bought this book.
Also in the V.I. Warshawski series | View all