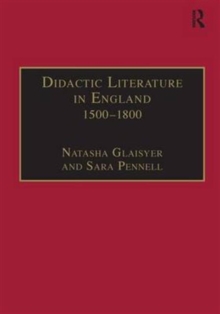 Didactic Literature in England 1500-1800 : Expertise Constructed
Hardback
Description
Ranging from music to astronomy, gardening to the Bible, this essay collection is the first multi-disciplinary volume to examine a kind of text that was a staple of early modern English publishing: the how-to book.
It tackles a wide range of subjects - grammars, music books, gardening manuals, teach-yourself book-keeping - while highlighting the commonalities of diverse texts as didactic works, and situating this material in wider intellectual and material contexts. An introductory essay explores the uses of didactic texts in early modern culture, evaluates their relationships with other literary forms, and establishes the significance of such texts within the cultural history of the period.
There follow contributions by an international group of scholars from a broad range of disciplines, including the history of science, literature, lingustics, and musicology. The volume addresses the important issue of how texts that tend to be regarded today as 'non-literary' functioned within early modern literature.
It also evaluates relationships between textual prescription and actual practices, and the early modern conception of experience as opposed to knowledge, that presently concern social and cultural historians and historians of science.
Drawing attention to non-fictional, didactic texts as opposed to the imaginative and political writings that have been its focus until now, Didactic Literature in England 1500-1800 adds a new dimension to the study of reading, readership and publishing.
All in all, it constitutes a substantial contribution to histories of knowledge, of educational processes and practices, and to the history of the book in early modern England.
Other Formats
EPUB from £35.98
PDF from £35.98
Paperback / softback from £36.25