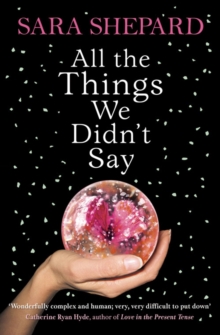 All The Things We Didnt Say
Paperback
Description
Emotional, issue-led fiction perfect for all fans of The Memory Keeper's Daughter and Jodi PicoultTragedy came as if so often does: a teenage party, emotions running high, followed by a horrific car crash.
A girl is left dead and a boy is forced to leave his home town, with a secret that he will carry with him forever...Years later, when Summer's mother disappears one summer, she is left with her father.
Obsessed with an accident from years ago, he slowly descends into mental illness. And as he becomes more disorientated, he reveals small fragments of a secret that has been hidden since his youth, a secret that changes everything.Summer supports her father as much as she can but eventually realises that she has to escape.
She finds refuge with her great-aunt, Stella. Feisty, fun-loving, and dying of cancer, Stella holds parts of the family secret.
Slowly, things fall into place for Summer - or at least so she thinks...This is a story of the importance of family, of the damage a lie can do, and of how nothing is ever what it seems.
Information
Format: Paperback
Pages: 384 pages
Publisher: HarperCollins Publishers
Publication Date: 01/10/2009
ISBN: 9780007304486
Free Home Delivery
on all orders
Pick up orders
from local bookshops
Reviews
Showing 1 - 5 of 12 reviews.
Previous | Next
Review by onewhowaits
16/06/2015
I was really looking forward to this book, it sounded good but i just could not get into it :( shame really i just couldnt connect with the characters.
Review by lesleymc
16/06/2015
I received this as an early reviewer. Would I have bought it, I think so. However I would have been disappointed. It was slow reading but because it was an 'early review' copy I made myself finish it. The second half of the book was much better than the first. I wasn't engrossed by the story/characters however by the latter half I did want to reach the conclusion. I think the biggest mistake was revealing too much in the first chapter. It would have been much more interesting making the discoveries along with the main character. As it stands I found it predictable. If you select this book I recommend you miss the first chapter, this would make the read much more interesting. I reread the first chapter at the end and at this point it was much more poignant.
Review by juliette07
16/06/2015
I was very much looking forward to reading this book and gathering further insight into the nature or nurture debate but was disappointed. The plot appeared so very engineered and never fulfilled the promise it offered when I first decided to request an Early review copy. We hear of the main character's family and their secrets but I found it difficult to become engaged with her. It felt that despite her ageing in the story her character never came off the page so as to speak. Considering the potential of the secrets which are gradually revealed - to me this book never came to life. It was simply not a believable yarn.The design, choice of colour and texture of the cover is at great variance to the content of the story. This intrigued me and left me wondering why it was chosen … More importantly it added little to the book and in fact added to my frustration with the story.
Review by arkgirl1
16/06/2015
This is a book that I have mixed feelings about but, although I did find this a slow starter with aspects of the writing that frustrate, ultimately it did engage me. Despite my reservations I found I wanted to discover whether Summer [the central voice] could escape from her past and the secrets her family contains. One major frustration is the cover as it suggests something much lighter and more 'chicklit' than what I found within; this book features family breakdown, hidden secrets and mental illness rather than love & romance. I think a more honest picture might mean readers know more what to expect and I believe expectations are always key.A major underlying theme is the nature of DNA and its impact on our choices in life set against the question of how our upbringing influences the way we grow and develop; the classic nature/nurture argument and this does intrigue and interest me. On the negative side we do have a random friend introduced who seems to be added as a 'compare and contrast' device to teach Summer that sometimes you need to take risks plus Summer has a brother who seems to have a story that we never really get to grips with. Although Summer is the main voice we have another voice that shares their thoughts and I felt that might tell too much before the reader needs to know. Many of the characters are not fully developed but I felt Summer was someone who you need to persevere with before she opens up to you; I did feel she was very credible but frustrating.The book does have a mystery element and some humour, mostly with Stella despite her illness, and although it is not a book that I will be recommending to my friends as a great read I was pleased to have the opportunity to read it.
Review by rcorfield
16/06/2015
I received this book as part of LibraryThing's Early Reviewers program. At first inspection I really didn't think I was going to like this book, but I was wrong. It is much better than I was expecting.The story is told, largely, from the point of view of Summer, who lives in the (to me) hopelessly exotic locations of Brooklyn and, in part, rural Pennsylvania. She endures the departure of her mother from the family home and the descent of her father into mental illness. Her father his haunted by an event in his youth, a car crash, and holds a secret from Summer.I was surprised at how quickly I was hooked by this story. Shepard's writing style is easy, but intelligent. I really like her attention to the little details which make the scenes all the more vivid and real.I was congratulating myself on guessing the secret halfway through the book, only to realise with 40 pages to go that I was wrong. Although no huge surprises, the plot does unfurl nicely as the story progresses. It certainly wasn't a chore to read and I looked forward to the chance to pick it up and carry on.The cover of this book really does it no favours.