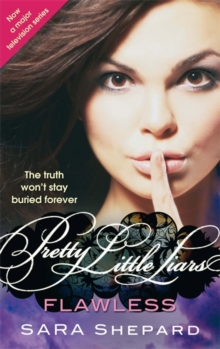 Flawless : Number 2 in series
Paperback
Description
In the exclusive town of Rosewood, Pennsylvania, where the sweetest smiles hide the darkest secrets, four pretty little liars - Spencer, Aria, Emily, and Hanna - have been very bad girls . . . Spencer stole her sister's boyfriend; Aria is brokenhearted over her English teacher; Emily likes her new friend Maya . . . as much more than a friend. And Hanna's obsession with looking flawless is literally making her sick.
But the most horrible secret of all is something so scandalous it could destroy their perfect little lives. And someone named 'A' is threatening to do just that.
At first they thought A was Alison, their friend who vanished three years ago . . . but then Alison turned up dead. So who could A be? Only one thing's for certain: A's got the dirt to bury them all alive, and with every crumpled note and vindictive text message A sends, the girls get a little closer to losing it all.
Information
Format: Paperback
Pages: 304 pages
Publisher: Little, Brown Book Group
Publication Date: 01/11/2010
ISBN: 9781907410727
Free Home Delivery
on all orders
Pick up orders
from local bookshops
Reviews
Showing 1 - 3 of 3 reviews.
Review by littleton_pace
16/06/2015
I was pleasantly surprised with book two in this series. Book one failed on me on a few levels in the romance department. It's far from my favourite things to read; but I appreciate it when it's done well, and the Aria/Ezra, Spencer/Wren relationships just made me gag throughout book one; but what kept me reading into book two was the mystery, and the romance become much more believable and readable, which for me was a big deal. I applaud the author's ability to create and follow four (five if you include Ali) different but intertwined lives. The relationship between Spencer and Wren has fizzled when she becomes too needy; a flaw in so many girls I knew at that age who dated older guys, Emily's struggle with her sexuality, and Hanna's constant battle with her former self as well as parents who seem to have forgotten about her. Add to that the mystery of what the hell happened to Allison and who did it, and you have a great story that had me hungry for more. The only negative I have, which is minimal, is that the parents sometimes act more childish than the teenagers. When Alison's body is found, Spencer's parents keep ignoring her and treating her like she doesn't exist (her punishment for getting with Wren, her sister's bf), that was just completely unrealistic to me. Her parents are not shown to be closed off at any other points, but are quite attentive and focused on their children, so to have their youngest have to endure the trauma of her former best friend's body finally being found and attending her funeral with her old friends would most certainly cause her parents to act parental. Too often is seems like these four girls are raising their parents. Hanna's mother sleeps with a cop to keep her daughter's record clear, Aria's keeping her father's affair secret for her father, Emily's parents are racist, and Spencer, well see above. But as with book one going into book two and solving the issues I had with the romance, I hope that in book three this parent/child thing will sort out and become more realistic. The mystery is fully engaging; and the main reason I continue. Onto book three!
Review by BellaFoxx
16/06/2015
This is classic Y.A. fiction revolving around privileged teen-age girls. Petty rivalries and jealousies, pressure to excel (from parents), to fit in (from peers). Plus the added angst of having a secret that could destroy their lives and someone who knows the secret and threatens to tell. The four girls have no idea who knows and who they can trust, they don't even trust each other.This is a typical Y.A. book, easy to read and follow, the plot was predictable at times but the storyline is good enough to carry you through to the end. Secrets are slowly unfolding during each book. As more gets revealed, the more the mystery of who "A" is grows.
Review by MichealaBeth
16/06/2015
Whoa. So different from the show! :o The first book was alot like the hit TV show, Pretty Little Liars... but Flawless completely shocked me. If you haven't been reading the books because you said you would "just watch the show" then you need to start reading the series.Flawless has unexpected twists and turns, Plenty of juicy drama, and last but not least, "A". "A" will feel as real to you as she must feel to Aria, Spencer, Hanna, and Emily when you're reading the books. She could be hiding on the very next page, With "A" you just never know. ;)"~Never trust a pretty girl with an ugly secret.~"
Also in the Pretty Little Liars series | View all