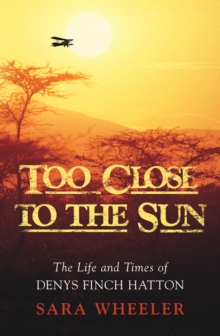 Too Close to the Sun : The Life and Times of Denys Finch Hatton
Hardback
Description
Denys Finch Hatton was an aristocrat of leonine nonchalance.
He was 6 foot 3 inches tall, and once lifted a car out of a ditch unaided.
After a dazzling career at Eton and Oxford, he sailed in 1910 for British East Africa.
There, in this earthly paradise, he first had an affair with the pantherine aviatrix Beryl Markham, and then - famously - with Karen Blixen, a romance immortalised in her book "Out of Africa". 'No one who ever met him,' his "Times" obituary concluded, 'whether man or woman, old or young, white or black, failed to come under his spell.' "Too Close to the Sun" tells the true story of this now legendary love affair, and recreates in telling detail the life of one of the key figures in the mythic story of the British settlers in East Africa.
Finch Hatton was a soldier in the East Africa Campaign, a white hunter, a farmer, a pilot, the epitome of the brave pioneer.
To quote "The Times" again, 'He always left an impression of greatness ...and aroused interest as no one else could. It was not only his magnificent physique and striking features; there was the ready intuition and sympathy with every type of character, a wonderful sense of humour, determination; and yet behind it all, indefinite but ever present, a feeling of waste.'
Information
Format: Hardback
Pages: 304 pages
Publisher: Vintage Publishing
Publication Date: 02/03/2006
ISBN: 9780224063807
Other Formats
Paperback from £8.35
EPUB from £6.99
Free Home Delivery
on all orders
Pick up orders
from local bookshops
Reviews
Showing 1 - 1 of 1 reviews.
Review by TheoClarke
16/06/2015
Beautiful lush prose makes this a delight to read but it is of little value as a historical biography because so little material survives about its subject and this author is too infatuated with her subject. Wheeler is so enamoured of Finch Hatton that she excuses his manifest flaws and is relentless in her implicit denigration of Karen Blixen just as if she were a jealous competitor for his love.The book is littered with the author's overt opinions and she is not afraid to demonstrate staggering ignorance. Early in one chapter she admits to being baffled by an automobile advertisement that promotes the provision of door handles inside and out; apparently she is unaware that automobile coachwork derived from horsedrawn carriages where internal handles were redundant because a servant would open the carriage doors for the passengers. This is not something that I imagine every writer to know but the author of a biography rooted in Edwardian England could easily find the answer to such a puzzle.Ignorance of technical details is no impediment to the successful evocation of past society, however. Wheeler conveys the privileged world of Eton and the English aristocracy in Britain and Africa with deft fluency. She has read widely in published and unpublished sources and there are extensive references in the endnotes. Furthermore, she neatly separates unsubstantiated material facts from rumours by the use of footnotes even though she shows no hesitation in creating vivid imaginative descriptions of scenes that were unobserved by any but the undocumenting participants.It seems that between Errol Trzebinski and Sara Wheeler there is no chance for the interested reader to get a balanced picture of this charming man who blinds his biographers to his weaknesses.