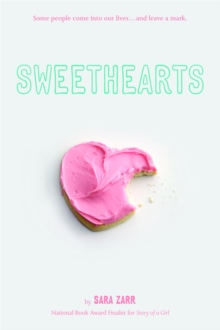 Description
As children, Jennifer Harris and Cameron Quick were both social outcasts.They were also one another's only friend.So when Cameron disappears without warning, Jennifer thinks she's lost the only person who will ever understand her.Now in high school, Jennifer has been transformed.Known as Jenna, she's popular, happy, and dating, everything "Jennifer" couldn't be---but she still can't shake the memory of her long-lost friend.
When Cameron suddenly reappears, they are both confronted with memories of their shared past and the drastically different paths their lives have taken.Sweethearts is a story about the power of memory, the bond of friendship, and the quiet resilience of our childhood hearts.
Information
Format: Paperback
Pages: 224 pages, black & white illustrations
Publisher: Little, Brown & Company
Publication Date: 05/02/2009
Category: General
ISBN: 9780316014564
Free Home Delivery
on all orders
Pick up orders
from local bookshops
Reviews
Showing 1 - 5 of 11 reviews.
Previous | Next
Review by stephxsu
16/06/2015
Jennifer Harris and Cameron Quick were one another's only friends back at their cruel elementary school. They didn't need anyone else, and their exceptionally tight bond transcended all forms of regular friendship. When Cameron and his troubled family suddenly disappear without a word, Jennifer is devastated. However, a move gives her the opportunity to change herself. So Jennifer Harris sheds a few pounds and becomes Jenna Vaughn, but constantly lives with her old self's insecurities.Now, as a high school senior, Jenna has everything that "Jennifer" couldn't have: friends, a place at her school, and even a boyfriend. But then Cameron suddenly comes back, and brings with him all the emotions and events that Jenna has tried to suppress for years. Will inviting Cameron back into her life bring her back to where she started: an overweight, insecure, and friendless girl? Will Cameron even stay this time, or is he still keeping secrets?SWEETHEARTS is a short but sweet read about a relationship, an emotion, that is not quite love, not quite just friendship. It's always difficult to write about anything that straddles the border between two distinctive places, but Sara Zarr does an admirable job of pitching the unspoken past against the possibly false present.Unfortunately, it is also this attempt to stay ambiguous that pulls this novel down for me. Maybe it was just the timing of when I read this novel; while I appreciated the non-fairy-tale-like ending—so much more realistic than happily-ever-afters—I wanted perhaps a more definitive resolution. An epilogue of sorts, per se. This book left me with the feeling like I missed something, like this was just two crazy weeks in a difficult-to-understand girl's confusing life, two weeks that will fade from her memory over time.If you want to read something that's a little more challenging, a little more thought-provoking, and definitely well-written, SWEETHEARTS is the book for you.
Review by dance4luv3
16/06/2015
A Story of love and heartache. Reinvented Jenna Vaughn's life is perfect. She forgot all of her horrible and wonderful memories of her life as Jennifer Harris. All of the memories of her only and best childhood friend, Cameron Quick, are stripped away, and all of the memories of being teased and ridiculed are forever gone. Or so Jenna thought. When Cameron Quick, her childhood friend whom she thought was dead, returns unexpectedly, her life is completely and forever changed. A boy whom Jenna loved with all of her heart and soul, and the one she still does. Hiding her past from her friends and her boyfriend, and even her mom and step-dad got even harder when Cameron comes back. When he asks her to tell her mother an unbearably tearful memory that she has forever kept a secret, she becomes closer to her mom than she ever thought possible. A heartwarming story of a girl's first love and her painful past. A must-read for every teenage girl and boy.
Review by ewyatt
16/06/2015
Jenna has reinvented herself since the days when she thought of herself as fat and unpopular and friendless except for Cameron Quick. When Cameron disappears and she is told he has dies, she is devestated. Suddenly eight years later Cameron reappears in her life turning everything upside down and making Jenna confront her past. I was worried about how dark the secret would be...but my imagination was worse than what was in the book.
Review by eyeluv2read
16/06/2015
So many kids have rough childhoods that nobody knows about or acknowledges. As Jennifer, aka Fattifer, reconnects with her childhood sweetheart, her ONLY friend, she learns to really start dealing with her past that she has previously tried to bury. While I could see it being a book that girls may enjoy, I cannot "recommend" it due to the expletives (omg, – fecal material, etc.). In 4.5 hours it took for me to read the book, there were not any words the kids don't already use, but the story could have been told without having the "boyfriend" (not the childhood sweetheart) calling Jenna a female dog and then having the comment repeated 4 more times. Having said that, I do see how it might help some kids… When Cameron comes back into her life, Jenna finally tells her mother about an incident that happened at age 9… Reading the book may give other kids the courage to tell an adult what needs to be told. Help cannot be given until somebody knows there is a problem (though a next door neighbor in the book came to tell Cameron's father she would call the police AGAIN, but the situation didn't change), the right person, the one willing to help, needs to know.
Review by 59Square
16/06/2015
I really like Sara Zarr's books - she takes typical themes and creates something very meaningful around those themes. Jenna was once Jennifer - a fat girl who was very unliked by her schoolmates. She was teased cruelly except for one friend - Cameron Quick - who had his own problems. Jennifer's mother was working full time and going to nursing school, and she really neglected her allowing a terrible episode to happen with Cameron's abusive father. Then Cameron's family disappeared, Jenna believed they were dead, and she created a new life where she was popular and organized. Suddenly Cameron returns - causing her to question the life she has. The biggest part of this friendship and connection for Jenna and Cameron is what has happened to them together, and what Jenna's mom calls unfinished business. This sense of togetherness and love is amazing, strong and trumps everything else going on her life. I think this is a great story about friendship between a guy and a girl that never turns into anything romantic - it's just a strong connection that cannot be denied. I was also apalled by the mom and Jenna's relationship and how terrible it had become because of what had happened when she was nine. Very thoughtful, thought-provoking and unusual.