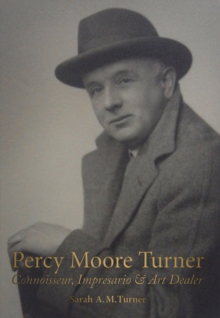 Percy Moore Turner : Connoisseur, Impresario and Art Dealer
Hardback
Description
Grudgingly acknowledged as the main mentor for the Courtaulds in building their art collections, the London and Paris art dealer, Percy Moore Turner, is now largely forgotten in this country.
Yet, in France, he was honoured by the French Government with the award of Officer and then Commander of the Legion d'Honneur and feted by the Museums of France with specially struck medals. In this, the first biography of Percy Moore Turner, his granddaughter, who has access to his few remaining business papers and unpublished autobiography, has researched his life and career. Involved with the Bloomsbury Group from before the First World War, he was actively courted by Roger Fry at the end of the War to manage an artists' association for them when Turner was still serving in the Army.
Instead, Turner promoted them when he opened his London Gallery with some success until 1925 when the Group, embarrassed by the financial losses caused by them to him, `sacked' him on friendly terms. Born in Halifax in 1877 into a family of hosiers and haberdashers, Turner's life and career spanned two World Wars and periods of economic volatility.
He tirelessly promoted modern French art internationally and built up a client base which included Dr Albert Barnes, John Quinn, Charles Lang Freer, Samuel Courtauld, Russell Colman and Frank Hindley Smith.
A longstanding friend of Kenneth Clark, Turner strove to ensure that his own art collection was placed appropriately in museums and galleries throughout Britain and France, considering himself merely the custodian of the pictures he owned.
Contents: 1. Childhood - Halifax to Norwich 2. Getting started 3. Gallery Barbazanges 4. Starting again - The Independent Gallery 5. Exhibitions and the Oxford Arts Club 6. The War Years 1939-1945 7. The Final Years 8. Photographs and Illustrations 9. Postscript 10. Acknowledgements 11. Abbreviations 12. Index
Information
Format: Hardback
Pages: 208 pages, 130 Illustrations, unspecified
Publisher: Unicorn Publishing Group
Publication Date: 12/04/2018
Category: Individual artists, art monographs
ISBN: 9781910787809