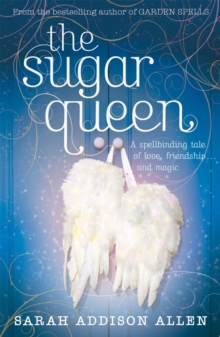 The Sugar Queen
Paperback
Description
Twenty-seven-year-old Josey is sure of three things: winter in her North Carolina hometown is her favorite season; she's a sorry excuse for a Southern belle; and sweets are best eaten in the privacy of her hidden closet.
For while Josey has settled into an uneventful life in her mother's house, her one consolation is the stockpile of sugary treats and paperback romances she escapes to each night . . . Until she finds her closet harboring none other than local waitress Della Lee Baker, a tough-talking, tender-hearted woman who is one part nemesis - and two parts fairy godmother . . .
Information
Format: Paperback
Pages: 352 pages, n/a
Publisher: Hodder & Stoughton General Division
Publication Date: 01/05/2009
ISBN: 9780340935774
Free Home Delivery
on all orders
Pick up orders
from local bookshops
Reviews
Showing 1 - 5 of 5 reviews.
Review by phoebesmum
16/06/2015
Lonely, frumpy, bullied Josey looks into her closet one day and finds, alongside her secret stash of sweets and romance novels, local waitress and bad-girl Della Lee Baker, who promptly sets about helping Josey fix her life, starting by introducing her to the sister she never knew she had. It occurred to me, as I was reading this that, with its characters who set water boiling through the sheer strength of their passion, or who are constrained by their nature to keep every promise they make, however inconvenient, or who find exactly the book they need for any occasion appearing conveniently to hand, if it had been set in Argentina rather than North Carolina and translated from Spanish then it would probably qualify as magical realism. As it is, I guess it gets filed under fluffy chicklit, although very enjoyable fluffy chicklit. How can't you love a heroine who longs for winter to come so that she can wear thick tights and big, baggy sweaters (so do I!) and who lives with a bullying harridan of a mother? It suffers somewhat from dialogue that serves to carry the plot forward without sounding like actual conversation – the hero of the piece, Adam the postman, is almost the only exception to this – but otherwise is quite delightful throughout.
Review by pokarekareana
16/06/2015
Sugary, sweet, frothy and easy to read. This well-written bit of chick lit is a great comfort read, but it is exactly that; no great work of literature.
Review by wyvernfriend
16/06/2015
Any book that has someone who has books appear because they think she needs them wins my heart with just that. But when you also have someone who occasionally hides out in her closet (me? do that as a kid? not that I'd admit to!); doesn't fight her mother enough for independence, doesn't believe in herself and another character who invades this closet to hide from an abusive boyfriends, along with a certain amount of what would probably be termed magical realism if it was written by someone with a more literary bent and you get a book that I thorougly enjoyed.The characters are sometimes a bit overdrawn but overall I found them satisfying and I enjoyed the read. This is the story of a woman who finds herself , and love, after a friend hides out in her closet and her finding herself has a cascade in her community.
Review by katelnorth
16/06/2015
Loved this - my favourite combination human relationships with a touch of magic. I did twig to one of the main surprises of the book much earlier than the main character (admittedly, it wasn't that well hidden; I don't think the readers weren't supposed to figure it out) but that was fine. I can tell I'm going to have another favourite author to add to my list.
Review by sunnycouger
16/06/2015
I love this sort of book and I fully admit my bias when it comes to grading it. I am a massive fan of Sarah Addison Allen and I think this book was even better than her first book, Garden Spells. <br/><br/>Josie is a 27 year old woman who looks after her mother and is attempting to atone for a difficult phase when she was a child by conforming to exactly what her mother wants her to be, which is essentially nothing but an unpaid helper. Josey harbours 3 secrets - an infatuation with the mailman (Adam), a horde of travel magazines to places she'll never visit, and a stash of sweets hidden in her closet that she can't eat in public. One day she is woken up by a noise and discovers Della Lee Baker inside her closet. Della Lee makes herself at home and slowly, but surely begins to change Josey's life.<br/><br/>I won't go into what happens, but I genuinely loved this. Josey is someone who it's easy to like - she's had her wings clipped so long that she almost doesn't know how to act, so to see her stumble and try and build relationships and friendships, you can't help but root for her.<br/><br/>Chloe, a woman trying to understand why her boyfriend cheated, is a wonderfully conflicted character and her friendship with Josie is her one bright spot in the weeks following the revelation about her relationship. The funny thing is that her boyfriend, Jake, is easy to like. He's a great guy, who loves her more than words, who made a mistake and it was his own guilt that made him confess even though she would have never known otherwise. Throughout the book, and despite that fact you fully understand what Chloe is going through, you can't help but want her to forgive him. This is really unusual for me, as generally I have a zero tolerance policy to infidelity, but he was so genuine, that I couldn't help it.<br/><br/>There is a hint of magic and the paranormal about the book, which appeals to me, and it obviously has romance and friendship. The drama isn't as dark as it was in Garden Spells, but it doesn't have to be.<br/><br/>The only criticism I really have for the book is the fact that I almost wish it was a little longer. If not that then I would have loved a sequel. There's so much more I want to know about these characters and where their life takes them.<br/>