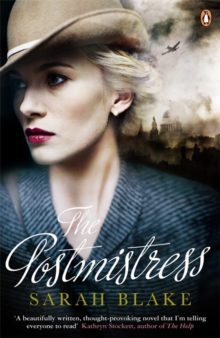 The Postmistress
Paperback
Description
The Sunday Times bestseller The Postmistress by Sarah Blake is a heart-rending and profoundly moving story of love and loss in World War II.It is 1940, and bombs fall nightly on London.In the thick of the chaos is young American radio reporter Frankie Bard.
She huddles close to terrified strangers in underground shelters, and later broadcasts stories about survivors in rubble-strewn streets.
But for her listeners, the war is far from home. Listening to Frankie are Iris James, a Cape Cod postmistress, and Emma Fitch, a doctor's wife.
Iris hears the winds stirring and knows that soon the letters she delivers will bear messages of hope or tragedy.
Emma is desperate for news of London, where her husband is working - she counts the days until his return.
But one night in London the fates of all three women entwine when Frankie finds a letter - a letter she vows to deliver . . .The Postmistress is an unforgettable story of three women: their loves, their partings and the secrets they must bear, or bury . . .'A beautifully written, though-provoking novel that I'm telling everyone to read' Kathryn Stockett, author of The Help'A brilliant story, beautifully crafted, that touches the heart and captures the imagination' Sunday Express'Unforgettable, heart-wrenching, captivating.
A profoundly moving story of love, loss and life in war time' Sunday Independent'Heartbreaking' Daily Express'A World War Two blockbuster with echoes of Atonement' Red'A moving tale that will stay with you long after the final page' Good HousekeepingSarah Blake lives in Washington, D.C., with her husband, the poet Josh Weiner, and their two sons.
Information
Format: Paperback
Pages: 336 pages
Publisher: Penguin Books Ltd
Publication Date: 01/01/2011
ISBN: 9780141046617
Other Formats
Paperback from £7.85
EPUB from £2.99
eAudiobook MP3 from £10.38
Free Home Delivery
on all orders
Pick up orders
from local bookshops
Reviews
Showing 1 - 4 of 4 reviews.
Review by elsyd
16/06/2015
This truly is a haunting book, however, I really got bogged down in the middle. The last part was riveting. I would probably have liked this book a lot better had the author really fleshed out all of the characters a lot more.
Review by DubaiReader
16/06/2015
Some great moments.I had mixed feelings about this book - on the one hand there were some wonderful descriptions and thoughts on the personal implications on war, but on the other, there were a lot of strangely structured sentences that made me want to send the author a copy of Eats Shoots and Leaves. Unfortunately it was the sentence structure that slowed me down and reduced my rating to 3.5 stars.If you are stalling on the first half, however, the second half does flow better and I read the last 125 pages at one sitting in the early hours.Iris has recently moved to the small American town of Franklin to become the 'postmaster' in a small local post office. She is efficient and often abrupt and seems to stand a bit aloof from the locals. The opening of the book is somewhat strange, as we meet her visiting a doctor to obtain a certificate to prove that she is still a virgin. She wants to have this to offer Harry Vale in case he should propose!Emma is newly arrived in the town, the young wife of their local doctor. She is so young and defenceless that I really felt for her as she arrived in a new place. As a youngster she lost both her parents and now feels that unless she is loved she will just disappear, cease to exist. That idea really captured me.The third of the book's women is Frankie Bard, the strong young reporter, determined to make a difference. Her observations on the effects of the Blitz in London during WWII were some of the most powerful I have read. She then goes into Europe to report on the stories of the Jewish refugees, and her frustration with the impossibility of taking a story right through to the end, was palpable - haunting her through voices that she records on an early recording machine.It is the actions and interactions of these three women, and their men, that formed the basis of the book. An excellent hanger on which to attach the observations and feelings for war that Sarah Blake so excels at.I do find it strange that the book is called The Postmistress but the picture on the front of my book must be of Frankie, who is young and blond, rather than Iris, the postmistress, who is older and red-haired!I'm glad I read this but hope that the author's next book will be slightly better edited and a really great read.
Review by faith76
16/06/2015
In all honesty I found this quite hard to get into. I think it was the style of writing that did not grab me although I found the writing excellent it did not grab me as a reader. It did not entertain me all the way through the book. There were parts of the book that were very moving but I was bored with most of the storyline. I was disappointed as reading the back of the book with the various comments I was expecting a real good read but this was not for me I'm afraid. I just did not have any real emotional attachment to the character's although with Frankie the reporter I kind of did especially in the end. I think this may make me sound cold hearted as the book is about different aspects of world war two and the character relations but I have read better such as Sebastian Falks Birdsong which is outstanding! The ending of the book really pulled the story together but I wish it could have grabbed me right from the beginning as well.
Review by sianpr
16/06/2015
Interlocking story of 3 female characters: a journalist reporting from the London Blitz & on Jewish refugees in Europe, a postmistress & a doctor's wife. All their stories eventually come together although this feels forced. However some excellent writing & excellent description of the Blitz & the horror of Nazi occupation in Europe. A bit too syrupy in places when it comes to relationships but still worth a read.
Also in the Penguin by Hand series