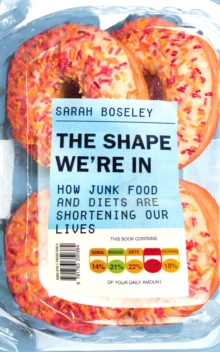 The Shape We're In : How Junk Food and Diets are Shortening Our Lives
Paperback
Description
This demonization of the overweight by the media and politicians is unrelenting.
Sarah Boseley, the Guardian's award-winning health editor, argues it's time we understood the complex reality of what makes us fat.
Speaking to behavioral scientists and industry experts, yo-yo dieters and people who have gone under the knife, Boseley builds a picture of an obesogenic society - one where we're constantly bombarded by the twin evils of big budget food marketing and the diet industry.
Filled with in-depth, original reporting, Boseley reveals just how widespread the problem is - 1 in 4 of us are obese - and makes the case that it is time to fundamentally change the way we live.
The Shape We're In is essential reading for anyone interested in their health and the health of their children.
Information
Format: Paperback
Pages: 304 pages
Publisher: Guardian Faber Publishing
Publication Date: 26/06/2014
Category: Food & society
ISBN: 9781783350384
Free Home Delivery
on all orders
Pick up orders
from local bookshops
Reviews
Showing 1 - 1 of 1 reviews.
Review by Anne_Green
27/08/2015
An insightful commentary on the obesity epidemic, written by the Guardian (UK)'s Food Editor, so therefore in the context of that country but the situation equally applies here (if not more so). The author points out that demonising the overweight and obese as gluttonous pigs with no self-restraint is not only not helpful but completely futile in attempting to solve this particular problem. As is the case in most industrialised countries today, we live in an environment where it's almost impossible not to consume more fat, sugar and processed foods than are good for us. They are everywhere, not only where you'd expect them to be, in takeaway food outlets, but lurking in what appear to be relatively innocuous food items. Adding sugar to everything has of course compensated for the loss of taste resulting from taking the fat out of everything, but most of the time we're largely unaware what we're actually eating. Even if you attempt to decipher the composition labels on packaged foods, it ultimately becomes so confusing and misleading, you tend to give up and grab what seems ok, hoping for the best. There are some scary facts and statistics in here about the influence of Big Food, especially on the diets of children and although solutions are contemplated in the last chapter, they are going to be easily come by. When the powerful influence of companies who make huge dollars from selling food that makes us fat continues to prevail, as it does, doing more than acknowledging the problem is unfortunately not likely to happen any time soon.