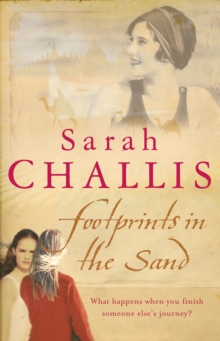 Footprints in the Sand
Paperback
Description
When Emily Kingsley arrives at the church for her eccentric Great Aunt Mary's funeral, she is still grieving for her broken relationship with the vain, mean and unfaithful Ted, and has little sorrow to spare.
At the wake afterwards, she is dismayed to learn the content's of Mary's will.
Emily and her cousin Clemmie must go to Mali, where they are to travel by camel into the Sahara Desert to scatter her ashes.Clemmie, fanciful and rootless, is thrilled at the chance of adventure.
Emily is not. With immense reluctance, she agrees to travel to Mali, and find Timadjlalen, a place in the desert that no one has ever heard of.
Why Mary chose it as her final resting place she cannot imagine, and the thought of a hot, pointless trip is almost too much to bear.
But once Emily and Clemmie set foot on the Saharan sand, and begin to uncover Mary's sixty-year-old secret, they come to understand why they must complete her journey...
Information
Format: Paperback
Pages: 512 pages
Publisher: Headline Publishing Group
Publication Date: 01/12/2006
ISBN: 9780755321698
Free Home Delivery
on all orders
Pick up orders
from local bookshops
Reviews
Showing 1 - 1 of 1 reviews.
Review by nicx27
16/06/2015
Emily and her cousin Clemmie are charged with taking their great aunt Mary's ashes to be scattered in the Sahara Desert. Emily is reticent about the trip because of a recent heartache and because she is quite sensible and can't see the point. Clemmie, on the other hand, is more romantic and spontaneous, and talks Emily into making the trip. The majority of this book is taken up with the descriptions of their journey across Mali, meeting with the Tuareg people and the eventual reveal of the reason why their great aunt wanted to be scattered in a place they didn't even know she had visited.I think the premise for this story is excellent, but unfortunately I did find the writing lacked depth, and because the story is told mainly in alternate first person chapters by Emily and Clemmie, it read a bit like a travel memoir and not like a work of fiction. I also didn't think it rang true that the girls would make such an epic trip for a relative that they weren't really all that close to.I enjoyed the gradual unfolding of the mystery of why Mary wanted to end up back in Africa, although it did take a long time to get there. This was helped along by the chapters told by her long-time friend, Beryl Timmis.I've still rated this book quite highly as I did enjoy the read overall, and thought the writer had done a terrific amount of research into the place and the people so that she could make it an authentic read. I did feel it was a little over-long, but ultimately enjoyable.