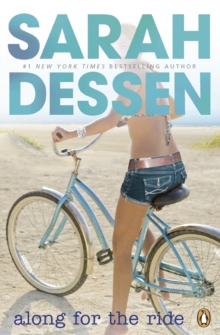 Along For The Ride
Paperback
Description
Along for the Ride is a captivating young adult novel from New York Times Number One bestseller Sarah Dessen, about learning to let go and enjoy life.
Auden has always felt like the odd one out. Since her parents' divorce she's shied away, studying lots and staying out of the party scene. But now Auden's realized there must be something more and, just like that, she changes everything.
Moving to her dad's house opens up a whole new whole of beach parties, food fights - and simply having fun. As she gets to know herself - and a secretive boy with dark, brooding eyes - can Auden begin to let go and finally feel like she truly belongs? Acclaim for Sarah Dessen: 'Unputdownable' MIZZ 'A poignant coming-of-age story' Big Issue 'A compelling story and beautifully written' Time Out Sarah Dessen is the author of six stunning teen novels: Just Listen, The Truth about Forever, Lock and Key, That Summer and What Happened to Goodbye.
She lives in the countryside in North Carolina with her daughter, husband, some lizards and two very spoilt dogs - read her once and fall in love.
Information
Format: Paperback
Pages: 448 pages
Publisher: Penguin Books Ltd
Publication Date: 29/06/2009
Category: General
ISBN: 9780141327488
Free Home Delivery
on all orders
Pick up orders
from local bookshops
Reviews
Showing 1 - 3 of 3 reviews.
Review by CaroTheLibrarian
16/06/2015
PLUS - * Despite the flowery dress on the cover, this is quite a thought provoking story, with themes of self discovery, work / life balance, and the importance of friends and family.* Characters are well developed, and develop further as the book progresses.* Auden, the main character is likeable but by no means perfect (a good thing I always think)* I especially liked the character Maggie, who not only turned Auden's preconceptions upside down but mine too - clever writing.MINUS - * I found it a little slow going at first but that might be deliberate on the author's part. Auden is all set for a predictable summer... it is only when her outlook changes dramatically that the pace of the story really picks up. OVERALL - * A 'deeper' read than you might think at first. One to read in the summer between school and college maybe, and one to make you think about the power you have to be who you want to be.
Review by DubaiReader
16/06/2015
Summer by the beach.I had heard so much about Sarah Dessen that perhaps I came to this book with too much expectation. It was a light summer read but it didn't blow me away, maybe it's one of those YA books that doesn't cross over to adult literature so well.Auden is introvert, she spends all her time studying to impress her accademic parents but doesn't realise that her social life is important too. She shies away from groups, parties, anywhere that she might feel uncomfortable.Her parents are divorced and dating back to the trauma that caused, she stopped being able to sleep at night, instead she tours the town, driving to all night cafes where she is allowed to make a single coffee last for hours.In the last summer before starting Uni she decides to stay with her Dad, his second wife, Heidi, and their new-born. She takes all her study titles with her, intending to prepare for the classes in the next term (does anyone really do that!!??). I'm glad to say she gets distracted in the seaside town where her Dad lives and starts to live a little.And she falls in love.There are quite a number of characters, all fairly well drawn. I think what I had a problem with, however, was the interactions between the characters; sometimes they seemed a bit cardboard, a bit clunky together.The baby, spending most of its time crying, was an interesting touch and I certainly felt for Heidi as she struggled to care for it without the support of her husband. In fact Auden's Dad was an altogether creepy character!The yougsters that Auden befriends were an interesting bunch, with a lot more depth than they initially seemed to have, particularly Maggie. And Eli was kind of cute :)All in all a readable book but not earth shattering.Loved the cover art!
Review by AnnMaryVincent
16/06/2015
Auden has been staying out of parties and studying and studying since her parents' divorce but all that changes forever when she spends her summer before college with her dad.Auden is starting to make new friends and relationships,She gets to know herself and learns how to have fun with a new world filled with beach parties and food fights. A secretive boy helps her to let go and start to make up for the things she missed during her childhood. Sarah Dessen proclaims that this book is about second chances and how with family, friendships and even love it can take more than one try to get it right and I think that this has a very realistic story which can even happen in our everyday life.It has a great pace and its easy to fall in love with this book.So have a go and its guaranteed to make you want to read more and more.