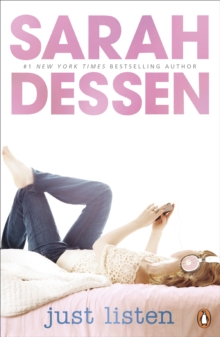 Description
Just Listen is a captivating young adult novel about learning to forgive and forget from New York Times Number One bestseller Sarah Dessen, author of The Truth About Forever and Lock and Key, Sarah Dessen. I'm Annabel. I'm the girl who has it all. Model looks, confidence. A great social life. I'm one of the lucky ones. Aren't I? My 'best friend' is spreading rumours about me. My family is slowly falling apart. It's turning into a long, lonely summer, full of secrets and silence. But I've met this guy who won't let me hide away. He's one of those intense types, obsessed with music.
He's determined to make me listen. And he's determined to make me smile. But can he help me forget what happened the night everything changed? Sarah Dessen is the author of stunning teen novels: The Truth About Forever, Along for the Ride, Lock and Key, That Summer and What Happened to Goodbye.
She lives in the countryside in North Carolina with her daughter, husband, some lizards and two very spoilt dogs - read her once and fall in love.
Information
Format: Paperback
Pages: 400 pages
Publisher: Penguin Books Ltd
Publication Date: 02/07/2007
Category: General
ISBN: 9780141322919
Free Home Delivery
on all orders
Pick up orders
from local bookshops
Reviews
Showing 1 - 4 of 4 reviews.
Review by shell70
16/06/2015
This story grabs you right from the start. Not knowing exacting the "it" problem until halfway through, it keeps the reader engrossed to find out what Annabel chose to do. This story is quite powerful as it deals with the very real issues that face teenagers today. Peer group pressure, sexual assault, anorexia and true friendship. Ultimately Annabel discovers that she is the only one that can make the decisions and be truthful to herself. Fabulous story and highly recommended.
Review by veens
16/06/2015
Annabel Green was one of those girls who had everything, model looks, great family, cool friends; but then all that is just from the outside, just as the glass house she lives in, from outside it is just perfect but really no one bothers to know the inside. Annabel's likes to keep to herself her views, her thoughts so as to not hurt anyone with the bitter truth. Everything really starts changing fer her, when her grandmother dies suddenly and her mother starts going downhill. She really can't bear the sadness and puts up with the modeling, which is her mothers favorite hobby. She has 2 elder sisters, who would not to talk to each other and one of them has an eating disorder, which her family ignores, until it is too late.Well, Annabel has a good friends following, until one night everything changes. She feels it safer to hide from them, than confront them. She, now is only friends with Owen who is a loner by choice! Owen is the only bright spot of her school life and her whole day in it's entirety.When it comes to music or Annabel's inner monologue, Owen's advice remains the same: don't judge...just listen.
Review by Luli81
16/06/2015
My third book by Dessen, I think the worst so far.I'm a full grown adult (31 already!) but I still enjoy reading YA novels from time to time, especially well written ones, like Dessen's. She has always shown a deep understanding of what means to grow up and learn to accept oneself. I find her writing highly inspiring and introspective in a good way, like you can still learn things from her stories, even if you are an adult.So far, all her heroines have been young girls who have to face some stressful situations and learn to live accepting their limitations, usually finding love along the way. In "Just listen", Annabel, is a perfect girl who seems to have it all, even a dark secret which she can't even admit to herself. When she finds herself abandoned by all her shallow girlfriends, she starts hanging out with the weird guy from High School, Owen, who teaches her to be honest both with herself and the others, and to be brave to tell the truth, even if it's scary and shameful. But, while I loved their musical arguments, (Owen is an absolutely freak regarding music), I found their relationship too unreal, it was hard to imagine that such different people could be together.I have to admit, though, that the way Dessen describes Annabel's sisters and their relationship with their parents was brilliant. THAT was believable and it had a satisfying conclusion.All in all, I wasn't as hooked as I have been with the her previous books, so I'll only give it 3 and a half stars this time.Don't miss Dessen's novels though, they have worked fine for me so far, and I'm quite a demanding reader!
Review by katie1802
16/06/2015
Wasn't my favourite Dessen, as I had just read The Truth About Forever, a far superior novel, but still, its a great book.