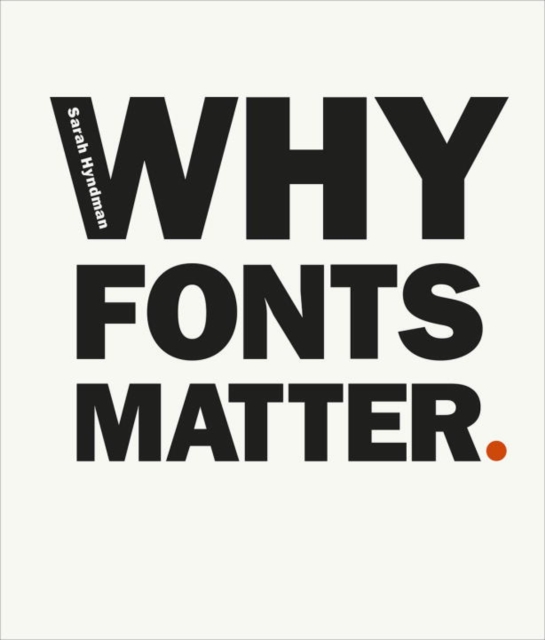 Why Fonts Matter : a multisensory analysis of typography and its influence from graphic designer and academic Sarah Hyndman
Description
Discover the incredible power of fonts - how they influence your decisions, alter your perceptions, stir your emotions and change how you understand the world. Graphic designer Sarah Hyndman shares her infectious enthusiasm for fonts in this visually inspiring, beautifully designed, immersive and interactive study, including quizzes, tests and case-studies. 'A fascinating insight into how type can influence our feelings, our senses, and even our taste' -- Professor Charles Spence, University of Oxford'Most books about fonts are written for designers - Sarah brings the power of fonts to everyone' -- Patrick Burgoyne, Editor of Creative Review'This book is an inspiration' -- ***** Reader review'Ground-breaking' -- ***** Reader review'Beautiful and fun!
A fantastic read' -- ***** Reader review'Love this book!
Couldn't put it down and read it from cover to cover' -- ***** Reader review'A really interesting and insightful book' -- ***** Reader review*********************************************************************************************************We all constantly interact with type in almost every aspect of our lives.
But how do fonts affect what we read and influence the choices we make?This book opens up the science and the art behind how fonts influence you.
It explains why certain fonts or styles evoke particular experiences and associations.
Fonts have different personalities that can create trust, mistrust, give you confidence, make things seem easier to do or make a product taste better.
They're hidden in plain sight, they trigger memories, associations and multisensory experiences in your imagination. * Fonts can alter the meanings of words right before your very eyes. * See what personalities fonts have, and what they reveal about YOUR personality. * Explore how you respond to fonts emotionally and can make fonts work for your message. * Be amazed that a font has the power to alter the taste of your food. This book is a must-read for anyone interested in typography and graphic design professionally but also a fascinating insight for anyone interested in giving words impact or anyone wanting to know more about how type can be used to influence us.
Information
Format:
Pages:144 pages
Publisher:Ebury Publishing
Publication Date:28/01/2016
Category:
ISBN:9780753557235
Information
Format:
Pages:144 pages
Publisher:Ebury Publishing
Publication Date:28/01/2016
Category:
ISBN:9780753557235