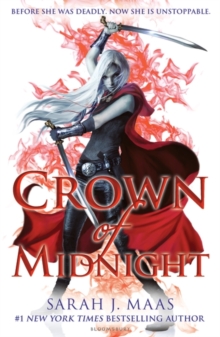 Crown of Midnight
Paperback
Description
Eighteen-year-old Celaena Sardothien is bold, daring and beautiful - the perfect seductress and the greatest assassin her world has ever known.
But though she won the King's contest and became his champion, Celaena has been granted neither her liberty nor the freedom to follow her heart.
The slavery of the suffocating salt mines of Endovier that scarred her past is nothing compared to a life bound to her darkest enemy, a king whose rule is so dark and evil it is near impossible to defy.
Celaena faces a choice that is tearing her heart to pieces: kill in cold blood for a man she hates, or risk sentencing those she loves to death.
Celaena must decide what she will fight for: survival, love or the future of a kingdom. Because an assassin cannot have it all ...And trying to may just destroy her.
Love or loathe Celaena, she will slice open your heart with her dagger and leave you bleeding long after the last page of this New York Times bestselling sequel, in what is undeniably THE hottest new fantasy series.
Information
Format: Paperback
Pages: 432 pages
Publisher: Bloomsbury Publishing PLC
Publication Date: 15/08/2013
Category: Fantasy
ISBN: 9781408834947
Other Formats
EPUB from £6.39
Hardback from £11.35
Free Home Delivery
on all orders
Pick up orders
from local bookshops
Reviews
Showing 1 - 5 of 5 reviews.
Review by shelleyraec
16/06/2015
I really liked Throne of Glass and I have been looking forward to this sequel, Crown of Midnight. I was a little worried that the novel might succumb to the dreaded second book syndrome but all for nought, Crown of Midnight is a terrific read which I enjoyed even more than the first.Picking up a few months after Celaena was named King's Champion in Throne of Glass, the book opens as Celaena drops the rotting head of one of Ardalan's enemies at his feet. As the King's personal assassin, indentured for four years, she is expected to follow his orders or risk the lives of those she loves, but Celeana walks a fine line between obedience and rebellion.There is much tragedy for Celaena in Crown of Midnight, the death of a close friend, a betrayal she doesn't think she can ever forgive and separation from those she cares for. Celaena's prodigious talents are called upon often but the most deadly action takes place as Celaena seeks revenge and absolution. Bloody, fast paced and Celaena's adventures left me breathless.While magic is largely assumed to be extinct in Erilea it begins to make its presence felt in Crown of Midnight. A hooded figure radiating evil lurks in the castle's library, the spirit of Queen Elena makes another appeal for Celaena's assistance and an animated doorknocker helps her to solve the mystery of King Ardalan's power base. Blood outs Celaena, and the Prince, revealing stunning truths in an exciting plot that twists and turns.Romantically, Celaena makes her choice but betrayal soon tears them apart. *Sigh* I could fall in love with Kings Guard, Captain Chaol Westerfield and their romance is joyful and heartbreaking. However I liked seeing Prince Dorian begin to come into his own in this installment, his loyalty to Celaena and Chaol is admirable given his feelings for them both.Though ostensibly written for a mature young adult audience I think this fantasy series has plenty to offer to adults of both genders. Crown of Midnight is fast paced, action packed, with great characters and an entertaining story. It is going to seem like a longgg wait for the next book (due out in 2014)!
Review by wyvernfriend
16/06/2015
Much poking at secrets, some of which bite back.Celaena Sardothien is juggling love and duty, trying to do what she must to survive while at the same time trying to find ways around the orders she has been given to save those who want the best for the kingdom. She's determined that she will succeed and while, sometimes the relationships are a bit overblown, she is a great character.I like this series. I want more of it.
Review by sunset_x_cocktail
16/06/2015
The first was good, although it took me a while to get into it, after some of the reviews I read I wasn't so sure, I started off thinking the series was trying to be The Hunger Games meets Game of Thrones, but Throne of Glass turned out to be pretty damn awesome in its own right.<br/><br/> Second in the series was even better than the first. Absolutely phenomenally good. I was at 66% yesterday evening, and about 11 pm just before bedtime, I figured I'd read a few more chapters then go to bed as I needed to be up for work in the morning, I couldn't put it down and stayed up till midnight to finish. <br/><br/>The story picks up shortly after the first book left off, Celaena is doing her duty as the King's Assassin, though with more than a few secrets of her own, her training with the Captain of the Guards Chaol continues and I got the impression that her friendship with Prince Dorian had turned a little frosty. There's political intrigue and the hint of forbidden magic continues as well as Celaena's friendship with the awesome Princess Nehemia. The first book was about winning and being the strongest, this one is more about personal relationships and where your loyalties lie as to what you're willing to do to defend your people and your beliefs. There's budding romance between Chaol and Celaena which when it finally happened was so well written my eyes actually misted over.<br/><br/>Just when you think everyone's on top of their game, plots are twisting nicely and the budding romance is going smoothly...a gut wrenching tragedy occurs and everything goes quickly to hell. I had a serious WHAT THE...???? moment and was devastated when it happened. As were the other characters, Celaena falls to pieces and sets out to right this horrible wrong. <br/><br/>In the mean time there is some fantastic world building and history in this fantasy novel, the forbidden magic, hidden rooms in the library, riddles to solve, murders to avenge, its hard to believe at some points things will ever work out. Nothing will ever be the same between the surviving characters. <br/><br/>The characters themselves are well rounded, they have their good points and bad points, they're flawed, no one's perfect. Good guys to route for and bad guys to despise against a wonderful fantasy landscape. This is easily my favourite YA fantasy series. I never thought I'd get approved for the galley of this in a million years and if I hadn't been at work when I got the approval email I would have let out a squee of delight. <br/><br/>It wasn't a happily ever after ending, (i believe there are 3 more books in the series) but it was satisfactory and let to the start of a new adventure for Celaena. With a good WTF thrown in for good measure and WHY DO I HAVE TO WAIT UNTIL NEXT YEAR FOR THE NEXT ONE?! from me.<br/><br/>so a huge thanks to Netgalley for approving me for the ARC on this one. Loved it so much I've preordered the paperback. <br/>
Review by Tarklovishki
16/06/2015
I swear to you I almost tore the book in half, convinced that there were pages missing because <i>DAMN IT, IT CAN'T END THERE!</i> Despite the 17 pages I'd read before today, I just read this entire book in five hours. I completely devoured it, and it was <i>so good.</i> Argh, does anyone know when the third book is coming out?! I need it like air!!
Review by ellsie98
16/06/2015
I'll admit, when I first finished Throne of Glass, I was sort of dreading reading the sequel. Throne of Glass set the bar so high I stayed up until 2am to finish it.<br/><br/>I am happy to say that Crown of Midnight smashed that bar into oblivion.<br/><br/>Can there be another star rating added? I don't want to have to go through my entire read list and move down all the books by a star, because trust me; this book is in a league of it's own.<br/><br/>Not only do we *finally* get some Celaena/Chaol action, but more is revealed about Ardalan's Assassin's history than ever before. My mind literally exploded. Along with my voice, squealing, "I KNEW IT! I KNEW IT!" as I reached the heart-gripping finale. More beautiful descriptions, dresses with I am entirely envious of and a glimpse into the cold heart of the girl who survived in Endovier.<br/><br/>My only issue with it is that I didn't write it myself.<br/><br/>REREAD 5TH OCT 2014 - Still amazing.
Also in the Throne of Glass series | View all