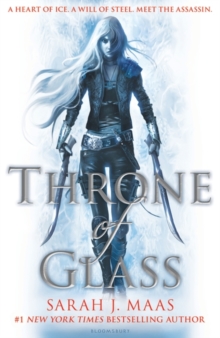 Throne of Glass
Paperback
Description
Meet Celaena Sardothien. Beautiful. Deadly. Destined for greatness. In the dark, filthy salt mines of Endovier, an eighteen-year-old girl is serving a life sentence.
She is a trained assassin, the best of her kind, but she made a fatal mistake.
She got caught. Young Captain Westfall offers her a deal: her freedom in return for one huge sacrifice.
Celaena must represent the prince in a to-the-death tournament - fighting the most gifted thieves and assassins in the land.
Live or die, Celaena will be free. Win or lose, she is about to discover her true destiny.
But will her assassin's heart be melted?
Information
Format: Paperback
Pages: 432 pages
Publisher: Bloomsbury Publishing PLC
Publication Date: 01/08/2012
Category: Adventure
ISBN: 9781408832332
Other Formats
Paperback from £7.15
EPUB from £1.19
Hardback from £11.35
Free Home Delivery
on all orders
Pick up orders
from local bookshops
Reviews
Showing 1 - 5 of 6 reviews.
Previous | Next
Review by shelleyraec
16/06/2015
I love it when a book surprises me and Throne of Glass did just that. This engaging debut fantasy novel by Sarah J Maas introduces the world of Erilea, a kingdom in conflict as the King of Adarlan ruthlessly seeks to conquer his neighbours.Celaena Sardothien was rescued near death at age eight and trained by Arobynn known as the King of the Assassins. Her talent earned her the title of Assassin of Adarlan but her capture saw her incarcerated in the Salt Mines of Endovier, a slave who is starved and beaten. Near death, Celaena is offered a reprieve, the chance to compete to become the King's Champion. Despite her hatred of the Adarlan royalty, Celaena can't resist the promise that, should she win, four years of service will earn her her freedom.Celaena is an appealing heroine, for despite her deadly nature she is exactly that. Though she has endured much pain and heartbreak she retains a sense of empathy and her vulnerabilities offset her arrogant facade. Celaena has earned the right to be proud of, and confident in, her prodigious skills, though we see little of them before the competition in Throne of Glass (There are 4 e-novellas, prequels, available that illustrate her talents). Perhaps if anything, Celaena is a little too perfect, as well as being an expert assassin she is also intelligent and beautiful, however I like that Celaena makes no apologies for who she is and in fact, uses her gifts to accomplish what she needs too.While I would have preferred less of the romantic element in Throne of Glass, which includes the obligatory love triangle, at least the attraction between Celaena, Prince Dorian Adarlan and King's Guard, Captain Chaol Westfall, develops slowly. It's a bit of a stretch to believe Celaena would be willing to fall for Dorian's charms, simply by dint of his birthright but I liked the way in which his relationship with Celaena changes him. Dorian is a promising character, he is not quite the feckless prince one might expect and I have hopes that he will come into his own as the series progresses. I thought Chaol could have been a more well rounded character, I did't feel I learnt enough about him, aside from some basic personality traits, to feel strongly about his fate.The storyline of Throne of Glass includes an engaging balance of action and magic. Erilea is still a little sketchy with the world building receiving less attention than the establishment of character and relationships, but I didn't find it lacking. There is enough information provided through out the story to form a solid impression of the kingdom and its operation and as it is just the first in a series I am sure there is much more to come. Throne of Glass has elements that are definitely skewed towards to the female YA market, the love triangle and descriptions of court gowns among them, but I do think it has broader age appeal.Throne of Glass is similar in some ways to Kristin Cashore's novel,Graceling, another YA fantasy novel I enjoyed despite not being fond of the genre in general. True high fantasy fans will probably find Throne of Glass a bit light for their tastes but I found it an entertaining and engaging escapist read.
Review by wyvernfriend
16/06/2015
Celaena, when we first meet her, is serving a life sentence in a salt mine. She has lasted longer than most in the salt mine, partially because of her skills, and now she's offered a way out. Take part in a competition to be the Kings' champion and win. She's up against a lot of men with something to prove, and even without the competition, where death is a very real possibility, there's someone stalking the players and killing them gruesomely. She had me when she got so excited by the library and the snark kept me happy. While she's attracted to both Captain Chaol Westfall and Prince Dorian, she is aware of the issues about possibly dating either, or loving either. Her relationship with the foreign princess is also interesting and the two of them will make a great team.The story is nicely complicated, plots are woven around and there's nothing straighforward about any of the characters and their motivations and I love that it's that complicated without being too messy. While it's billed as Young Adult there's a lot of messy life stuff that makes it very close to adult, the characters may be teenagers but their lives have made them quite adult.I also love the back cover where there's a shadowy impression of her back dressed in a gown but with the same weapons in hand and same stance as the front, this girl means business no matter how she's dressed.I recommend this book.
Review by aoibhealfae
16/06/2015
Throne of Glass is a Young Adult Fantasy novel about Celaena Sardothien, an 18 year old assassin who was captured and sent to rot in a salt mine. Because of a political rivalry, the king wanted a champion to do the dirty works and the crown prince and his captain were sent to the salt mine to retrieve her. A year working in slave condition, Celaena was still unbroken and as sarcastic as she was when she fist came. They offered her a chance to be free from slavery if she won the place to be the King's champion and so Celaena accepted the offer and they escorted her to the castle where she can spend weeks training with the others candidates for the title. In addition to that, Celaena attracted the attention of the prince and the captain with her charm and easy smiles.<br/><br/>If you read all that and imagine the storylines, I bet whatever you come up with will be less predictable and fillerless than this book. I'm not kidding about the amount of fillers this book have. Add in some gloss of what appeared to be a strong character to a Serena Van Der Woodseen screentime, you'll have Celaena Sardothien in flesh. I was stubborn that I had thought the book would get better soon with action and plot progression but when I reached half of the book, everything just crumbled. The novel have what FIXI pulp novels suffer with bombastic prologue and first chapter but soulless husk of a plot and storylines. The main character was possibly the most uneven and emotionally bland that I've ever encounter in YA Fantasy. The repetitive superficiality and shallowness against the stark initial characteristics that it tried to sell initially. Because its written with specific YA target group in mind, it can't go away from the predictable triangle love. Because its a multi-POV story, you get to be in the characters' shoes when the boys thought about Miss Sardothien in what girl's usually imagine boys would notice the dress and the hair of the girl when she walk by them. Naturally.<br/><br/>If you wanted to read the superficial part of the current YA trend with bland characters and mellowed storytelling with bombastic overrated commercialization, and if you like books like Becca Fitzpatrick, Alexandra Adornetto and Stephenie Meyer, this book is definitely for you.<br/><br/>If you wanted to read a story about a messed up girl who became an assassin unwillingly, you should definitely forget about this book's existence and watch Gunslinger Girl or read some adult genre stuff about assassin girls which are much better read than this brick-sized book. <br/><br/><br/>
Review by Tarklovishki
16/06/2015
This will undoubtedly turn up somewhere in my top 10 books of 2013. Holy crap, this was awesome. I read it in one day with barely any breaks, except the period in which the sun came up and my body decided to tell me it was tired.<br/><br/>Celaena was such a well-rounded character! I loved that she could not only kick ass, but love the finer things in life like beautiful dresses, food and the like was just so unbelievably amazing. I've never encountered any female protagonist like her.<br/><br/>Also, in the book, it is not only mentioned that she gets her period, but it's shown. After she escapes emaciation and becomes healthy, she gets her period back. I thought that was a pretty great addition to the book for however many pages it was mentioned in (I think maybe like five). <br/><br/>My one gripe is that she shows more interest in Dorian than Chaol. Chaol was such a good match for her. They're both snarky as fuck, kicks some ass, and like to tease each other. Dorian? "Oh, Celaena looks pretty!" and that's it. That's pretty much it for them.<br/><br/>The mystery in the book was well written. I fucking loved every moment in this book. I'm barely coherent. GAH.<br/><br/>I have Crown of Midnight on my shelf right now but I'm hesitant to read it because I'll finish it too quick and then I have a long wait until the next book. I WENT THROUGH THIS WITH SHERLOCK, OKAY? I WATCHED SEASON 1 AND 2 TOO QUICKLY AND NOW I'M JUST AN INCOHERENT MESS WAITING FOR THE 3RD. I've learned my lesson the hard way.
Review by anyaejo
27/08/2015
I listened to this one on audio and wasn't 100% thrilled with the narration and I think that impacted my impression of the characters. The narration was a bit over dramatic at times and didn't do a great job of distinguishing characters.<br/><br/>This is also pretty light fantasy. The world has hints of some cool elements, but the characters also play billiards and chess (though with some different pieces for giggles?). The villain was properly spooky, but I was never really worried that our heroine would come out on top.<br/><br/>I kind of got a hunger games but in fantasy vibe, anyone else?
Also in the Throne of Glass series | View all