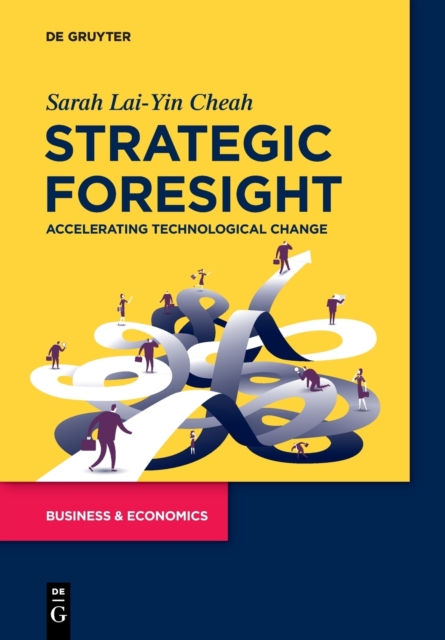 Strategic Foresight : Accelerating Technological Change
Paperback / softback
Description
Strategic foresight is discipline that organizations adopt to gather, interpret, manage information about the future environment they plan to operate in.
This book introduces the concept of strategic foresight and advocates a holistic and systemic foresight approach comprising five phases that are suitable for organizations in the public and private sectors.
Using real-life cases as practical examples, the book demonstrates how organizations can apply a range of foresight methods and resources across the phases from intelligence to implementation. The book offers an opportunity to learn by all key stakeholders.
It enhances the understanding of the National Research Organization's Foresight exercise (as the complex social phenomenon) in its context.
The case study of the National Research Organisation provides lessons and insights that can improve both the theoretical and practical implementation of the Foresight Exercise. Dr Mlungisi CeleActing Head: National Advisory Council on InnovationDepartment of Science and Technology, Republic of South Africa Foresight methodologies have been widely spreading among business and research organizations worldwide during the last decades.
The weakest point of many forward-looking activities so far was the lack of their practical use.
The books shows, on a number of cases, how a Foresight study, being wisely designed and implemented, can become a useful navigation tool for increasing competitiveness in the fast changing environment. Dr Alexander SokolovProfessor, HSE National Research University, RussiaDirector, Institute for Statistical Studies and Economics of Knowledge / International Research and Educational Foresight Centre Very useful tool to describe how organizations assess the future and formulate strategic plans using a systemic foresight methodologyIbon ZugastiManaging Director in PROSPEKTIKER and Chair of the Millennium Project Node in Spain A comprehensive source of knowledge on complex issues of technology foresight process, from conception to commercialization of key technologies, made easy to understand and useful for aspiring futurists seeking to learn more about the matters at hand. Dr Surachai SathitkunaratExecutive Director, APEC Center for Technology Foresight (APEC CTF) Assistant to the PresidentOffice of National Higher Education, Science, Research and Innovation Policy Council (NXPO)Thailand This book provides a very good coverage of the end-to-end methodology for technology-based innovation through the use of diverse and relevant business use cases.
Very often, books on this theme only expound the approaches.
Sarah goes beyond in sharing the pitfalls and challenges during the different stages of the systemic foresight methodology so that readers can learn and avoid the mistakes that other companies made.
The emphasis on open innovation and intellectual property management is valuable as many organizations fail to deliver the vision due to insufficient attention on these two aspects.
A must read if you wish to master strategic foresight. Dr Terence HungChief, Future Intelligence TechnologiesRolls-Royce Singapore Pte Ltd Why do people want to know the future?
People want to use budget efficiently or don't want to waste time?
Aside from those who see the future, like fortune tellers, how do we make the future?
Foresight is known as a method of creating the future in a way that many people has been using.
So how is it different between Forecast and Foresight?
This book will help answer that. Dr Kuniko UrashimaDeputy Director of Foresight CenterNational Institute of Science and Technology Policy (NISTEP), Japan .
Information
Format:Paperback / softback
Pages:129 pages, 1 Tables, black and white; 1 Illustrations, black and white; 14 Illustrations, color
Publisher:De Gruyter
Publication Date:23/03/2020
Category:
ISBN:9783110672909
Information
Format:Paperback / softback
Pages:129 pages, 1 Tables, black and white; 1 Illustrations, black and white; 14 Illustrations, color
Publisher:De Gruyter
Publication Date:23/03/2020
Category:
ISBN:9783110672909