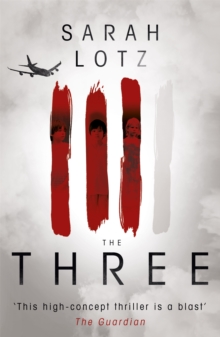 Description
*****Coming soon to your screen as a major BBC adaptation by Golden Globe winner Peter Straughan*****They're here ...
The boy. The boy watch the boy watch the dead people oh Lordy there's so many ... They're coming for me now. We're all going soon. All of us. Pastor Len warn them that the boy he's not to---- The last words of Pamela May Donald (1961 - 2012) Black Thursday.
The day that will never be forgotten. The day that four passenger planes crash, at almost exactly the same moment, at four different points around the globe. There are only four survivors. Three are children, who emerge from the wreckage seemingly unhurt.
But they are not unchanged. And the fourth is Pamela May Donald, who lives just long enough to record a voice message on her phone.
A message that will change the world. The message is a warning.
Information
Format: Paperback
Pages: 480 pages
Publisher: Hodder & Stoughton General Division
Publication Date: 26/02/2015
Category: Thriller / suspense
ISBN: 9781444770384
Other Formats
EPUB from £0.99
Hardback from £11.79
Free Home Delivery
on all orders
Pick up orders
from local bookshops
Reviews
Showing 1 - 1 of 1 reviews.
Review by iansales
27/08/2015
I took this with me to Finland to read during a convention. I had no intention of reading it during the journey – for that I had DH Lawrence's The Rainbow – but I started it shortly after I arrived in Mariehamn, and had finished it by the Sunday so I left it on a table for someone else to, er, enjoy. The central premise is, well, pretty much the same as James Herbert's The Survivor (an awful book, but actually quite a good film). Four planes crash within minutes of each other around the world – in Japan, the US, the English Channel, and South Africa – and a child is the only survivor in three of the crashes. No one survives the fourth. An enigmatic phone call by an American passenger on the plane in Japan, shortly before she succumbs to her injuries, prompts a US evangelist to declare the three children the, er, Four Horsemen of the Apocalypse. Um, yes. He claims there's a child who survived the fourth crash, and various hints suggest this may be true, but… Why? Why base the plot on the Four Horseman but only have three of them? It makes no sense. The kids are certainly not ordinary and who, or what, they are is never categorically stated. The novel is also presented as found documents, the research materials of a journalist writing a book on the whole affair. Lotz handles her voices impressively well, and for commercial fiction this is a well put-together piece of work. But the premise is weak and over-stays its welcome by a couple of hundred pages. Oh, and definitely don't read this book when travelling by air…